Yummy Chicken 'Stroganoff'
Guys, this dish is a new go-to!!! It's soooooo satisfying to the palate, but so easy!!! Just account for the cook time, and this is a great weeknight meal!! A perfect Sunday dinner, though.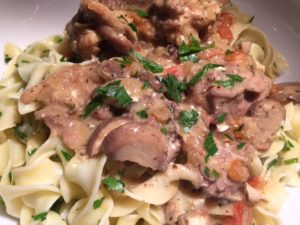 I'm still working on my photo quality. Don't judge this dish on my poor picture-taking! It almost looks like a stroganoff, which in some ways, it is. But, also, not. The original recipe calls for sour cream, but I used plain yogurt, as that's all I had. It was soooooo goood!! My 4 year old had seconds!!! The mustard flavor is really secondary. So, don't be scared off if you hate dijon.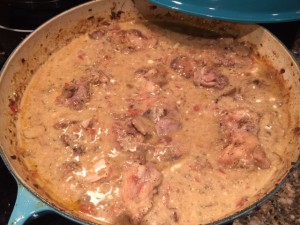 I'm in love with my newest Le Creuset pan. Look how good the chicken looks inside of it! I'm biased…
For the noodles, the original recipe calls for 'super noodles', and they sound delish! But, I didn't have chicken bouillon on hand, so I couldn't do them. I simply added butter and parsley to my egg noodles and that was plenty good! Although, I do plan to try the original method, if you don't have all of the ingredients for the noodles, don't let that stop you from cooking this chicken!
I PROMISE you will enjoy this dish.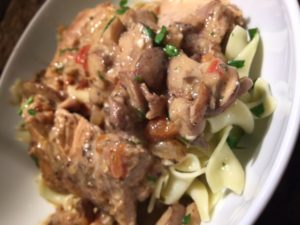 Yummy Chicken 'Stroganoff'
2016-04-11 19:20:58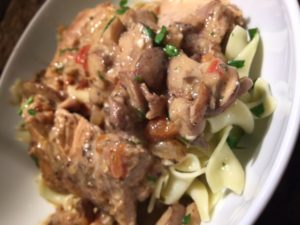 Serves 4
Nutrition Facts
Amount Per Serving
* Percent Daily Values are based on a 2,000 calorie diet. Your Daily Values may be higher or lower depending on your calorie needs.
Ingredients
6-8 chicken thighs, boneless and skinless
salt and pepper
2 tablespoons extra-virgin olive oil
1 medium onion, chopped
8 ounces sliced mushrooms
3 cloves garlic, minced
1 tomato, chopped, juice and seeds removed (I used a beefsteak tomato)
1 tablespoon flour
1 teaspoon dried tarragon
1/2 cup white wine
1 cup chicken stock
1/4 cup dijon mustard
2 tablespoons sour cream, or plain yogurt
*Buttered egg noodles with parsley
Instructions
Preheat oven to 350 F. Season both sides of the chicken thighs with salt and pepper. Heat 1 tablespoon of oil over medium-high heat and brown chicken on both sides, working in batches, if necessary, so that the chicken doesn't steam. Remove the chicken and set aside.
Add remaining oil to the same pan, and sauté the onions till translucent, about 5 minutes. Add the mushrooms and cook down for about the same amount of time. Stir in the garlic and cook for one minute, stirring often. Add in the tomato and flour, and cook for about 1 minute, to cook off the flour flavor. Add the dried tarragon. Deglaze the pan with white wine, allowing it to cook, so that the alcohol can burn off. Return the chicken to the pan, and add your chicken stock. Cover, and place in the oven for 45 minutes (30 minutes covered and 15 minutes with the lid removed).
When finished, remove the chicken from the pan and add the mustard and yogurt, and whisk until blended. Return the chicken to the pan, and spoon some of the sauce over the chicken, so that it is well coated. Serve with butter and parsley noodles.
Enjoy!
Notes
*Cook egg noodles according to package directions. Once al dente, drain water, and add 2 to 3 tablespoons of butter and allow it to melt into the noodles. Add 1/4 cup parsley. Mix together and serve.
Adapted from Melissa d'Arabian
http://www.bossoftheapplesauce.com/
Comments