Turkey Sausage and Arugula Pasta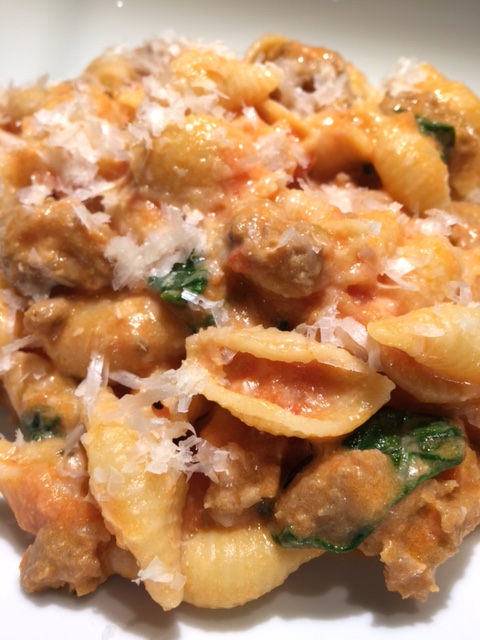 I have been making this dish since I saw Giada making it on her Food Network show a few years ago. She tops this yummy sauce over baked potatoes, but I far prefer it served with pasta. This dish looks really similar to another dish I made, Cheesy Sausage Pasta, but it is very different. I just like to use shells as my pasta of choice. 🙂
There are many things that I like about this dish. It's a great weeknight meal, because it comes together quickly. The sausage adds so much flavor on it's own. It's almost fool proof! You can easily switch out the arugula for spinach, should your local grocery store not carry it. Like I did this time around. I do prefer arugula, though, as it doesn't go mushy as quickly as spinach. But, my daughter loves both, and that's enough for me!
In a pinch, you can use pork sausage for this recipe, as it is more readily available, but be sure to drain off the fat. Sweet sausage is also much more kid friendly than the spicy variety. My daughter picked up on the spice in this dish right away when I couldn't find sweet sausage, and she wasn't as big a fan. So, I stick to the sweet stuff now.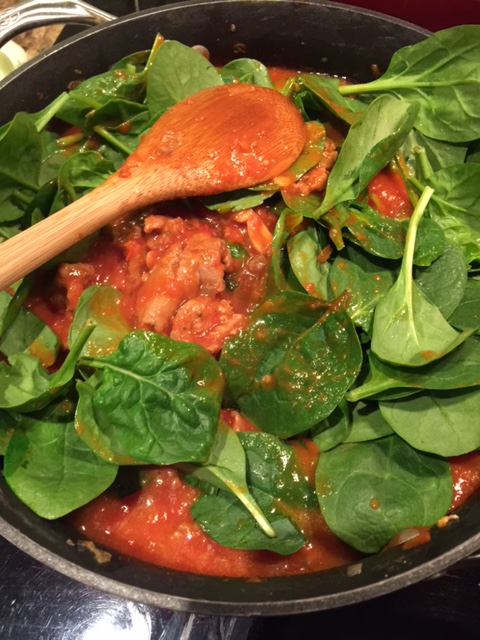 The arugula or spinach will look like too much when you first add it to your dish. But, it will wilt down really quickly.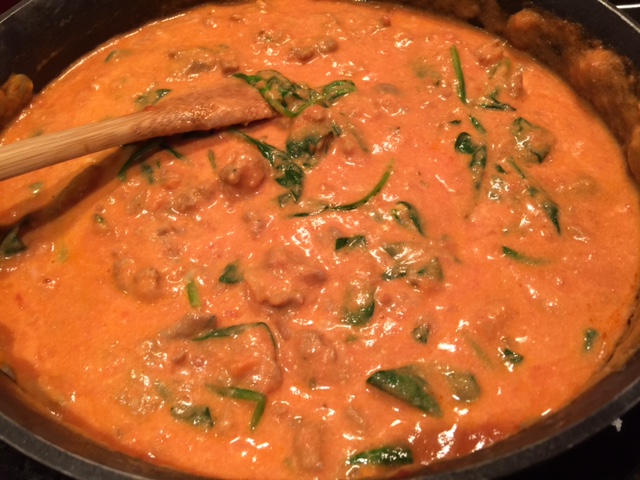 See? Mmmmm….this is yummy stuff.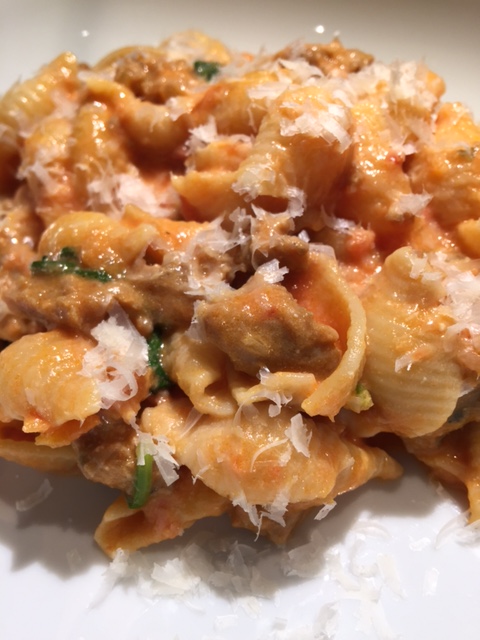 Here's what you need to do:
Turkey Sausage and Arugula Pasta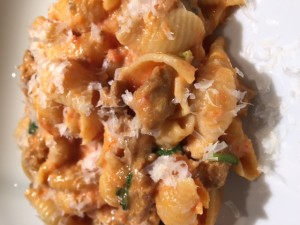 Turkey Sausage and Arugula Pasta
2016-03-11 12:03:36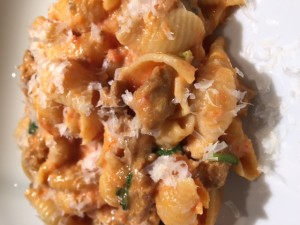 Serves 4
Nutrition Facts
Amount Per Serving
* Percent Daily Values are based on a 2,000 calorie diet. Your Daily Values may be higher or lower depending on your calorie needs.
Ingredients
1 tablespoon olive oil
1 medium white or yellow onion, diced
2 cloves garlic, minced
1/2 tsp each salt and pepper
1 package of sweet turkey sausage (about 4 or 5 sausages), casing removed
1 jar tomato basil sauce (2 cups)
3 cups arugula or spinach
1/2 cup mascarpone cheese
1/2 cup grated parmesan cheese
1 pound pasta, your choice of noodle
Instructions
In a large skillet, sauté the onions in olive oil over medium high heat until translucent. Add minced garlic and salt and pepper and cook for 1 minute, stirring often. Add the turkey sausage and cook until the meat has cooked through. Add in the tomato sauce and arugula. Let the arugula cook into the sauce until it reduces in size. Add in the mascarpone cheese and stir till combined. Remove the skillet from the heat, and stir in the parmesan cheese. Add pasta into the sauce, and finish with more parmesan cheese.
Enjoy!
Adapted from Food Network
http://www.bossoftheapplesauce.com/
Comments