Oatmeal Raisin Cookies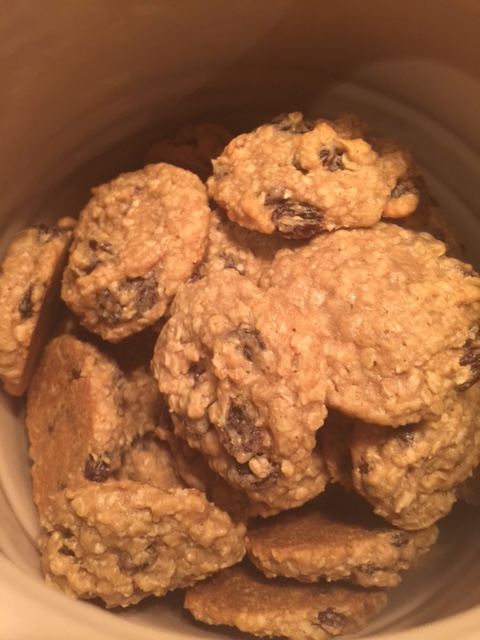 As I sit here at 7am on a Saturday morning with a tea in my hand, the fire lit and debating eating an oatmeal raisin cookie that I made last night, I thought it might be a good time to write a post about them! And eat a cookie. It's basically breakfast ingredients, right??
For Christmas, my husband got me a Le Creuset cookie jar! Cute gift, since cookies are kinda my thing. At least at Christmastime. Little did I know, he had a plan that I should keep this cookie jar full of cookies all the time! Sneaky.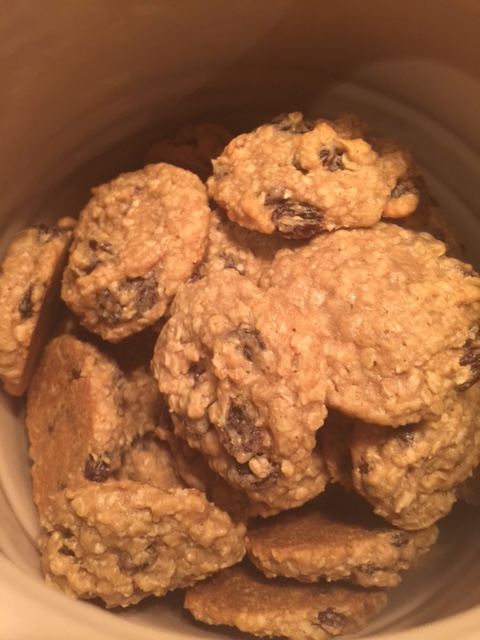 He's been asking for oatmeal raisin cookies for weeks! I promised him I would make them once the jar was empty of the rice krispy treats I had made previous. Now that report cards are done, the pressure is off, and it's the start of the weekend, I thought that last night was the perfect night to make them!
I found this recipe over 10 years ago on a bed and breakfast site that I can no longer locate. I have tweaked this recipe quite a bit over the years. At Christmastime, I make these cookies, with cranberries and white chocolate chips. They have been a long time favorite.
The original recipe is made with shortening, which I generally don't like to bake cookies with. I've tried this recipe with both salted and unsalted butter. Either is fine. I, honestly, don't notice much of a difference. In truth, I think I prefer these cookies made with salted butter. I have also cut back on the sugar in this recipe, as I found 2 cups to be way too much. I opted to add more brown sugar, because I like my cookies chewy. But, if you like a crispier type of cookie, just switch the amounts of white and brown sugar.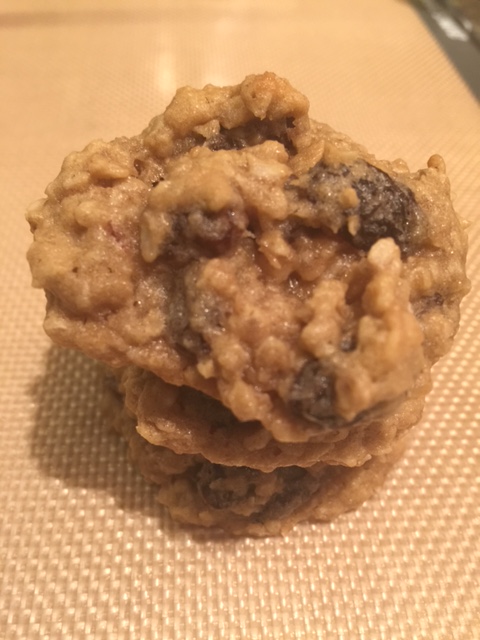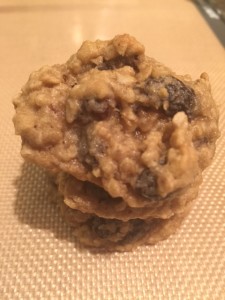 Oatmeal Raisin Cokies
2016-03-11 13:03:18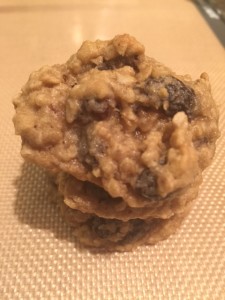 Yields 3 Dozen Medium Cookies
Nutrition Facts
Amount Per Serving
* Percent Daily Values are based on a 2,000 calorie diet. Your Daily Values may be higher or lower depending on your calorie needs.
Ingredients
1 cup, or 2 sticks, butter (softened at room temperature)
1 cup brown sugar
1/2 cup white sugar
2 large eggs
1 teaspoon vanilla
1 1/2 cups flour
1 teaspoon baking soda
1 teaspoon salt
3 cups quick cook oatmeal
2 cups raisins
Instructions
Preheat oven to 350 Farenheit
Cream butter and sugars together.
Add the eggs and vanilla.
Slowly add flour, baking soda and salt until combined.
Add oatmeal and raisins until all is combined.
With your cookie scoop, or spoon, drop cookies onto a parchment or silpat lined cookie sheet.
Bake for 10 minutes - A medium sized cookie yields 3 dozen.
Enjoy!
http://www.bossoftheapplesauce.com/
Comments