Broccoli Slaw Summer Salad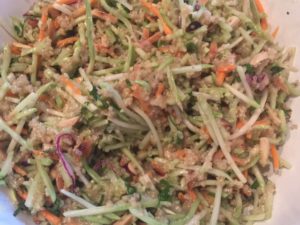 Please don't judge this recipe on my poor picture taking! I'm still learning! And, I was doing it quick, as dinner was about to be served!! I came across this recipe on Pinterest, and it is a keeper!!! It's perfect for a picnic, a pot luck or lunch the next day…. You name it! It's yum. We had it for lunch with BBQ chicken drumsticks AND for dinner with hamburgers and sausages. Happy Canada Day!!
Here's what you need to do:
Slaw:
3/4 cup uncooked quinoa
1 1/2 cups water
1/2 cup slivered almonds
2 cups shredded broccoli slaw (purchased in the prepared salads area of most grocery stores)
Honey Mustard Dressing:
1/2 cup olive oil*
2 tablespoons lemon juice
2 tablespoons dijon mustard
1 tablespoon apple cider vinegar
1 tablespoon honey
2 medium cloves garlic, finely minced
1/2 teaspoon salt and pepper
*the second time I made this, I used Grapeseed oil and it was just as good!
Rinse quinoa thoroughly before cooking. Add 1 1/2 cups of water to a pot with the rinsed quinoa. Bring to a low boil, medium high heat, with the lid off the pot. Turn temperature down to medium low until the water has evaporated. Shut off the heat and place the lid on the pot and let sit for at least 5 minutes. Fluff with a fork and let sit until ready to add to the salad.
Meanwhile, toast the almonds over the stove until they are lightly browned. Don't leave these unattended! They can burn easily!!
Add all of your dressing ingredients into the bowl you intend to use for your salad. Toss in your slaw, quinoa and basil and toss to coat. Add in your almonds. Don't worry if your quinoa is still warm. It won't damage the slaw.
Enjoy!!
(Source: Adapted from: cookiesandkate.com)
Comments