Mother's Day
It's Mother's Day weekend!!
I didn't have enough of them before tragedy struck our lives. Now, Mother's Day is bittersweet. Bitter, because I'm reminded of my angel baby boy who I don't have physically with me, and so many other moms do. It's a reminder I try to avoid because it makes me sad, and I'm trying to be less sad these days.
Mother's Day is also very sweet for me. For one, I still have my mom on this earth to celebrate. I know many don't and I am blessed we still have time together. A friend of mine was reflecting about Mother's Day on her blog, as she lost her mom when she was only 13 years old. That struck me. I took life for granted before we lost David. But, for my sweet friend, life got all too real at a time in her life when it should've still been a fairy tale. We need to never forget how very precious life is and how quickly it can change. My mom lives in Windsor and I'm in Toronto. Unfortunately, I won't be seeing her this weekend, but we are never far apart. I will make sure she knows how much I love her. Not just on Mother's Day, but every day!
I, also, have my sweet, sweet little 4 year old girl who brings me more joy than even I sometimes realize. Yesterday, I joined her at her Montessori for their Mother's Day tea. If I could've taken pictures, I would have! Each mom was given a time slot, so that the room wasn't overwhelmed with people, as this school's philosophy is to remain calm and quiet. There were four other moms in the class with me, and I could not hear them or their child, let alone what they were talking about! Leila met me at the door, held my hand and walked me to our table, which was reserved for us. Cute touch.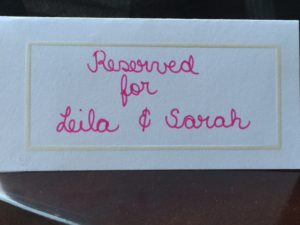 She set up the table, poured my tea, poured herself some milk, put a plate of pastries on the table, and together we sat and visited. She summed it up perfectly when she asked me, 'Best day ever?', and I answered, 'Best day ever'.
At the end of our tea, Leila got up and went to get me her present.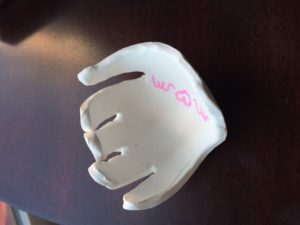 This sweet clay mold of her little hand, cupped perfectly for my rings or other jewelry.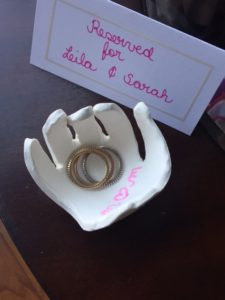 It really is the simple things that matter. It's times like these that put life into perspective. I may have lost, but I have also won. My baby girl needs to know that.
To all the angel moms, especially those that don't have any living children, and will be celebrating this Mother's Day in their hearts. I see you. Happy Mother's Day!
Comments