Crazy Easy Quick Bread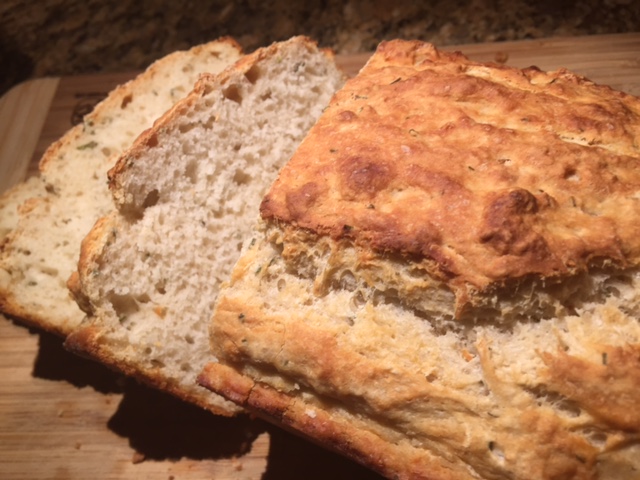 I haven't made a post in a while because I updated my website! It's kind of exciting. 🙂 Now, I need to work on my picture taking abilities. Yikes!
I made this bread the first time I introduced my daughter to salmon, so that she would have something on her plate that I knew she'd like, in case her salmon experience was a catastrophe! This bread really is true to its name. It's crazy easy!! And, it's also yummy. Two super important factors when cooking a weeknight meal!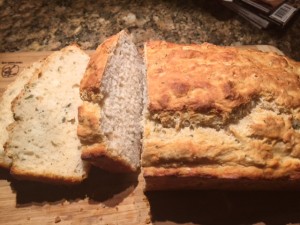 The secret ingredient in this bread is beer! Any ol' bottle of beer will do, except maybe Guinness. But, hey, if you're so inclined, give it a go! 🙂 Beer has yeast in it. A perfect pairing for bread making. Another really important ingredient in this bread is self-rising flour. Don't substitute for another flour, as self-rising flour has salt and baking powder already in it, which is why we don't need to add any of that stuff into this recipe! This bread is a bit dense. It's definitely not for sandwich making. But, along side a meal, it's perfect!!
Enjoy!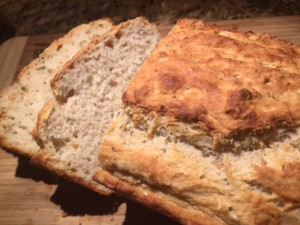 Crazy Easy Quick Bread
2016-04-02 17:10:10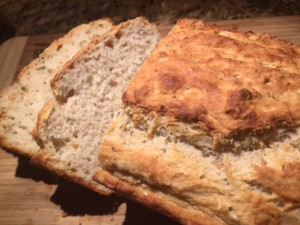 Serves 8
Nutrition Facts
Amount Per Serving
* Percent Daily Values are based on a 2,000 calorie diet. Your Daily Values may be higher or lower depending on your calorie needs.
Ingredients
2 1/2 cups self-rising flour
3 tablespoons sugar
1 can or bottle of beer
1 heaping tablespoon of chopped fresh rosemary
3/4 cup grated parmesan cheese
butter for greasing the pan
Instructions
Preheat oven to 375 F. Generously grease your bread pan with butter. Place all of your ingredients (minus the butter) into one bowl and stir until combined. Transfer to your greased loaf pan. Bake for 45 minutes, or until a toothpick inserted into the center of the loaf comes out clean. Remove loaf from the pan and let cool slightly before slicing.
Notes
Special Equipment: 8 1/2-by-4 1/2-by-2 1/2-inch bread pan
Adapted from Valerie Bertinelli
http://www.bossoftheapplesauce.com/
Comments