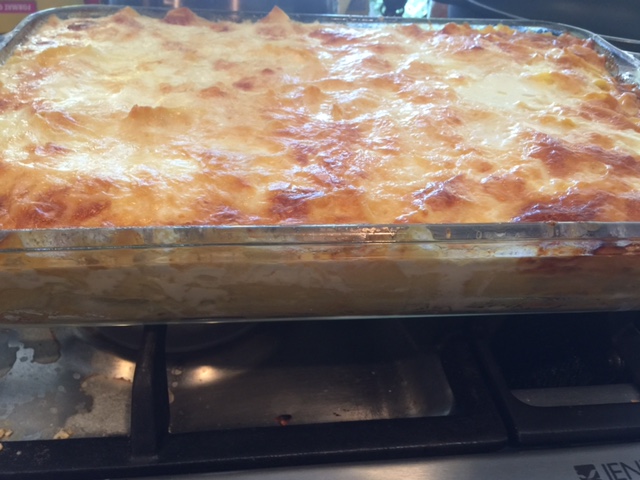 A friend of mine had asked me a while ago if I had a go-to recipe for a gooey, tasty mac n cheese. At the time, I hadn't, but I told her when I find it, I would let her know! Mac n cheese is one of my husband's favourite side dishes. I've tried out so many different recipes – with squash, with one type of cheese, with many varieties of cheese. You name it! None of them were all that great. I often found them so heavy, that you didn't need a lot in a serving, which meant tons of leftovers, which I didn't find worked well the next day.
Over the Easter weekend this past year, I was looking to add a new side dish to my mom's spread, as she always serves the same things. All great things, mind you, but I like trying new recipes, and what better time when there are lots of people around to try them out!
I came across this macaroni and cheese recipe and what I liked most about it was that the original recipe included ham! I thought this was perfect, as my mom was serving ham! So, I decided to omit the ham from the recipe and trusted that it would be the perfect accompaniment alongside the ham my mom was serving with our Easter dinner.
This dish is really easy to prepare. There's really not that much in it. But, it had much more liquid than any other mac n cheese I had ever made. I will tell you, I was concerned about this at first. But, I put my trust in the chef who created this recipe, and carried on.
The original recipe calls for this dish to bake for 20 minutes at 450. Guess what?? This wasn't long enough!!! The dish was still way too loose.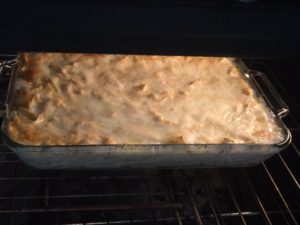 You can see from the picture above, that the top hasn't browned enough. So much for trusting the chef!! I decided that I couldn't keep the oven at 450, or the top would get too brown before the inside had a chance to solidify. I turned the oven down to 300 and let it bake for another 30 minutes. The results were perfect!
See??? Ooey gooey perfection. This behaved more like a scalloped potato (minus the potato!) recipe than it did mac n cheese. Which I thought only added to its appropriateness for Easter dinner.
You should make this. Kids love it and it has a slightly more sophisticated feel to it than some other mac n cheese recipes, which is nice for adults. Enjoy!
My Favourite Macaroni and Cheese
2017-07-18 11:07:35
Serves 6
Nutrition Facts
Amount Per Serving
* Percent Daily Values are based on a 2,000 calorie diet. Your Daily Values may be higher or lower depending on your calorie needs.
Ingredients
Butter, for greasing dish
1 package of broad egg noodles
2 cups heavy cream
2 1/2 cups whole milk
2 teaspoons all-purpose flour
1/2 teaspoon salt
1/4 teaspoon black pepper
2 cups (packed) grated Fontina
3/4 cup (packed) finely grated Parmesan
3/4 cup (packed) grated mozzarella
Instructions
Preheat oven to 450 degrees F.
Butter a 13 by 9-inch baking dish and set aside. Cook the noodles in a large pot of boiling, salted water for about 5 minutes. Stir frequently as the noodles will clump together. Don't overcook them as they will continue to cook in the oven later. Drain well, but don't rinse.
Whisk together the cream, milk, salt and pepper in a large bowl. Stir in 1 cup of Fontina, 1/2 cup of Parmesan, and 1/2 cup of mozzarella. Add the noodles and toss to coat. Transfer this to the baking dish. Top noodle mixture with the remaining cheese, spread evenly.
Bake for 20 minutes, uncovered, at 450 degrees F. After this, turn the oven down to 300 degrees F and continue baking for 30 minutes or until the top has browned. Let stand for 10 minutes before serving.
Adapted from Giada De Laurentiis
http://www.bossoftheapplesauce.com/