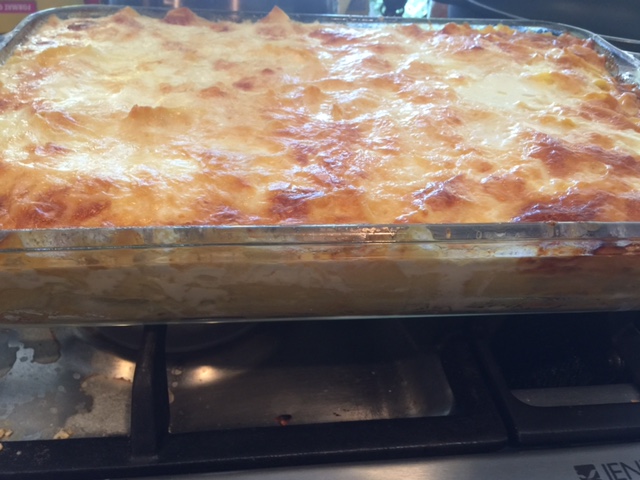 A friend of mine had asked me a while ago if I had a go-to recipe for a gooey, tasty mac n cheese. At the time, I hadn't, but I told her when I find it, I would let her know! Mac n cheese is one of my husband's favourite side dishes. I've tried out so many different recipes – with squash, with one type of cheese, with many varieties of cheese. You name it! None of them were all that great. I often found them so heavy, that you didn't need a lot in a serving, which meant tons of leftovers, which I didn't find worked well the next day.
Over the Easter weekend this past year, I was looking to add a new side dish to my mom's spread, as she always serves the same things. All great things, mind you, but I like trying new recipes, and what better time when there are lots of people around to try them out!
I came across this macaroni and cheese recipe and what I liked most about it was that the original recipe included ham! I thought this was perfect, as my mom was serving ham! So, I decided to omit the ham from the recipe and trusted that it would be the perfect accompaniment alongside the ham my mom was serving with our Easter dinner.
This dish is really easy to prepare. There's really not that much in it. But, it had much more liquid than any other mac n cheese I had ever made. I will tell you, I was concerned about this at first. But, I put my trust in the chef who created this recipe, and carried on.
The original recipe calls for this dish to bake for 20 minutes at 450. Guess what?? This wasn't long enough!!! The dish was still way too loose.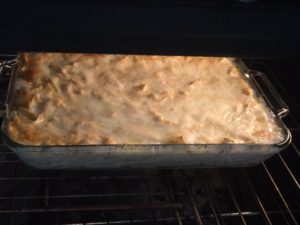 You can see from the picture above, that the top hasn't browned enough. So much for trusting the chef!! I decided that I couldn't keep the oven at 450, or the top would get too brown before the inside had a chance to solidify. I turned the oven down to 300 and let it bake for another 30 minutes. The results were perfect!
See??? Ooey gooey perfection. This behaved more like a scalloped potato (minus the potato!) recipe than it did mac n cheese. Which I thought only added to its appropriateness for Easter dinner.
You should make this. Kids love it and it has a slightly more sophisticated feel to it than some other mac n cheese recipes, which is nice for adults. Enjoy!
My Favourite Macaroni and Cheese
2017-07-18 11:07:35
Serves 6
Nutrition Facts
Amount Per Serving
* Percent Daily Values are based on a 2,000 calorie diet. Your Daily Values may be higher or lower depending on your calorie needs.
Ingredients
Butter, for greasing dish
1 package of broad egg noodles
2 cups heavy cream
2 1/2 cups whole milk
2 teaspoons all-purpose flour
1/2 teaspoon salt
1/4 teaspoon black pepper
2 cups (packed) grated Fontina
3/4 cup (packed) finely grated Parmesan
3/4 cup (packed) grated mozzarella
Instructions
Preheat oven to 450 degrees F.
Butter a 13 by 9-inch baking dish and set aside. Cook the noodles in a large pot of boiling, salted water for about 5 minutes. Stir frequently as the noodles will clump together. Don't overcook them as they will continue to cook in the oven later. Drain well, but don't rinse.
Whisk together the cream, milk, salt and pepper in a large bowl. Stir in 1 cup of Fontina, 1/2 cup of Parmesan, and 1/2 cup of mozzarella. Add the noodles and toss to coat. Transfer this to the baking dish. Top noodle mixture with the remaining cheese, spread evenly.
Bake for 20 minutes, uncovered, at 450 degrees F. After this, turn the oven down to 300 degrees F and continue baking for 30 minutes or until the top has browned. Let stand for 10 minutes before serving.
Adapted from Giada De Laurentiis
http://www.bossoftheapplesauce.com/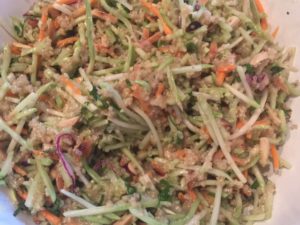 Please don't judge this recipe on my poor picture taking! I'm still learning! And, I was doing it quick, as dinner was about to be served!! I came across this recipe on Pinterest, and it is a keeper!!! It's perfect for a picnic, a pot luck or lunch the next day…. You name it! It's yum. We had it for lunch with BBQ chicken drumsticks AND for dinner with hamburgers and sausages. Happy Canada Day!!
Here's what you need to do:
Slaw:
3/4 cup uncooked quinoa
1 1/2 cups water
1/2 cup slivered almonds
2 cups shredded broccoli slaw (purchased in the prepared salads area of most grocery stores)
Honey Mustard Dressing:
1/2 cup olive oil*
2 tablespoons lemon juice
2 tablespoons dijon mustard
1 tablespoon apple cider vinegar
1 tablespoon honey
2 medium cloves garlic, finely minced
1/2 teaspoon salt and pepper
*the second time I made this, I used Grapeseed oil and it was just as good!
Rinse quinoa thoroughly before cooking. Add 1 1/2 cups of water to a pot with the rinsed quinoa. Bring to a low boil, medium high heat, with the lid off the pot. Turn temperature down to medium low until the water has evaporated. Shut off the heat and place the lid on the pot and let sit for at least 5 minutes. Fluff with a fork and let sit until ready to add to the salad.
Meanwhile, toast the almonds over the stove until they are lightly browned. Don't leave these unattended! They can burn easily!!
Add all of your dressing ingredients into the bowl you intend to use for your salad. Toss in your slaw, quinoa and basil and toss to coat. Add in your almonds. Don't worry if your quinoa is still warm. It won't damage the slaw.
Enjoy!!
(Source: Adapted from: cookiesandkate.com)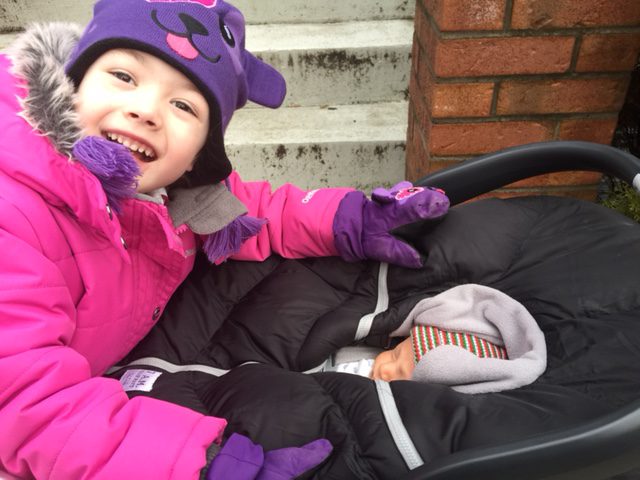 A lot has happened in my life since my last blog post. I got pregnant in April 2016, and, basically, didn't feel like cooking for 9 months!
Because we lost our second born son, David, prematurely, this pregnancy brought with it a lot of fear. For that reason, there wasn't a lot of celebrating and excitement for our baby-to-be. At least not from me. Of course, I felt so blessed to have been given another chance at growing our family, and finally giving our daughter a living sibling. But, I needed to get through months of scary waiting until we would finally be able to meet him.
I remember when 2016 began, I said that it was going to be my year. The two years prior to that were so hard for us, and we were due a year of happiness. When we found out we were expecting, everything felt like it was going according to plan! I was due to have him on January 17th, 2017. This felt like a good sign for me, as my husband's birthday is January 18th. I had my daughter on October 1st, one day before my birthday! It's only fair that his birthday be obliterated much like mine was once our daughter arrived! 🙂
One of the biggest challenges I had during this pregnancy was dealing with illness. I think I had a cold through most of it. At first, the worst head cold I have ever experienced. I remember wondering if I would ever know what it felt like to breath normally again! I, also, started teaching Kindergarten for the first time in September 2016. I have normally taught Grade 1. Not a huge stretch. But, germs seem to be exponentially worse in the kinder room! I developed a chest cold that I just could not kick! Eventually, I coughed so hard, I popped a rib. The upside to that, is that I was able to go on leave from work a couple weeks earlier than expected. Funny how things work out, because this turned out to be a blessing in disguise.
On December 16, 2016, I picked my daughter up from school, and we were ready to celebrate the start of her Christmas break! I was looking forward to spending the week with her ahead of the holidays and get in some mommy/daughter time before the baby arrived.
That night, while my daughter was in the bath, my water broke! 5 weeks early! I texted my husband, who was still at work. I called my mom. I got my daughter out of the bath, and we made the stressful trip, in rush hour Toronto traffic, to the hospital, where my husband met us.
At 11:12PM my rainbow baby boy was born.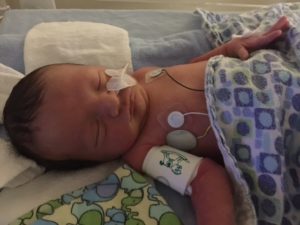 I didn't get to hold him when he was first born because my perfect baby had to be whisked down to the NICU and then to SickKids Hospital the next morning for a surgery. The picture above was the first time I really got to spend time with him, after I was discharged a day early, so that I could be with him.
From SickKids, we went to St. Michael's Hospital, since our baby was getting better and our chances of getting him home were growing closer. There, I met many wonderful moms who would show up to the NICU every single day, and stay all day long, to be with their babies. Some had been there for weeks and weeks. We were among the lucky ones who only needed to stay in the hospital for 8 days.
We got our Christmas wish and were able to bring our baby home on December 24th. The perfect Christmas gift!!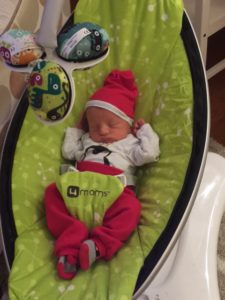 His sister agreed….