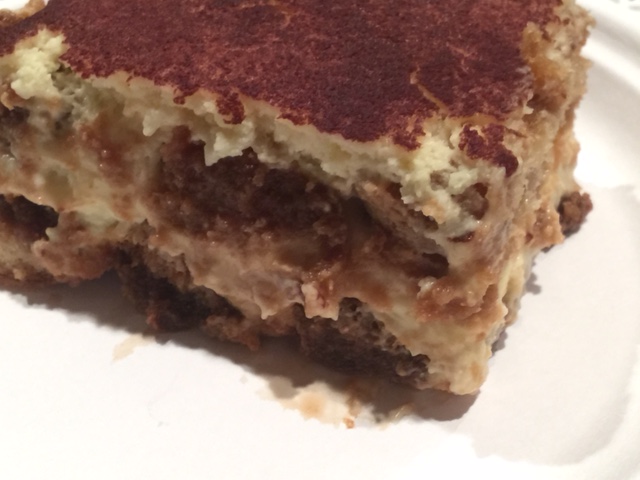 Years and years ago, I made tiramisu for a boyfriend, with the help of a good Italian friend from high school. It turned out great, but I haven't made it since. About a month ago, my husband, and some family and I went to a wine club that we are new members of for a private dinner, and tiramisu was for dessert that night. The tiramisu was good, but the cookie still had some bite to it, and I felt like I could make it better.
Fast forward two weeks later, over my lunch break, I found myself at McCall's Cake Decorating store in Toronto for some Christmas baking ingredients. Surprisingly, they were selling ladyfingers, and since I wanted to make tiramisu, I bought them. I asked the girl behind the counter if she thought I could make two pans of tiramisu with the amount of lady fingers I had. She told me she would ask the woman that was in the basement, as she makes them all the time. From the basement, a lovely, little Italian Grandma comes up, and proceeds, in broken English, to tell me the recipe she has used for 30 years! 1 eggs, 1 spoonful of sugar, and 100 grams of mascarpone, is what she said. She told me that for an 8×10 pan, she uses 5 eggs, 5 spoonfuls of sugar, and 500 grams of mascarpone. I thought that was all she was going to share, but then she kept going! She told me to separate the eggs, and beat the yolks with the sugar and then the mascarpone.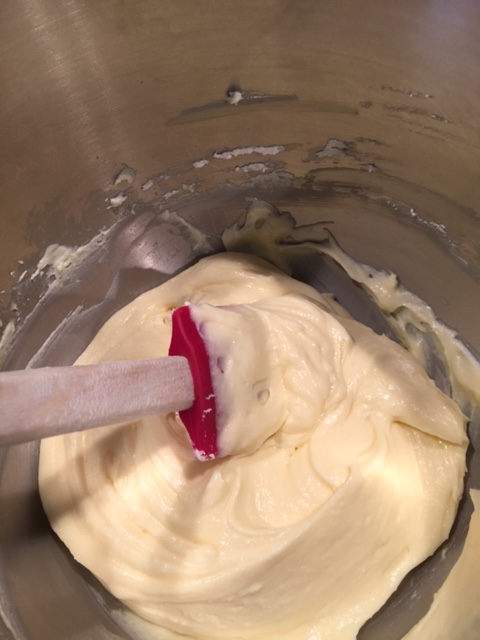 Till it looks like this.
In a separate bowl, beat your egg whites until they reach a soft peak.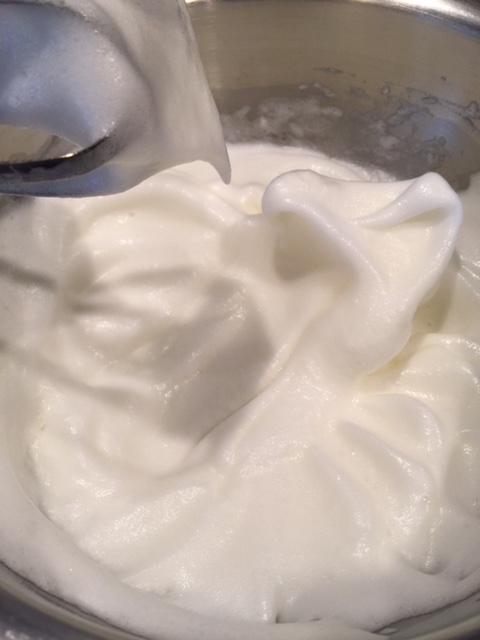 Like this.
Fold the egg whites into the mascarpone mixture.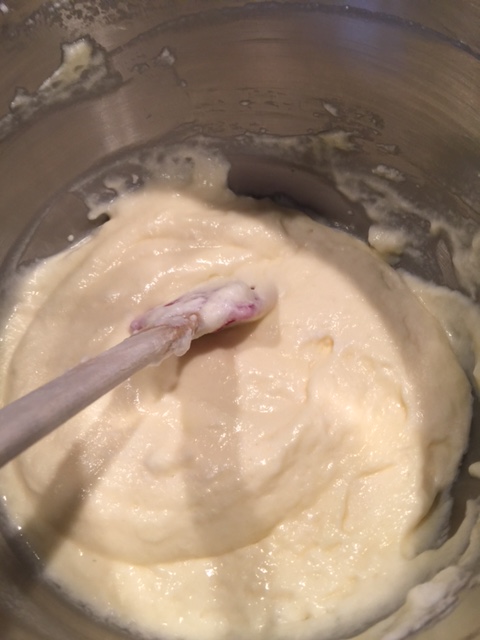 This is what you end up with. Just the right amount of sweetness.
I will tell you, that the container of mascarpone that I bought was only 475 grams, which I knew was 25 grams short from what Nona told me to use! But, I figured, I'd be fine. In truth, and this is just between you and me, I think 6 eggs, 6 spoonfuls of sugar, and 600 grams of mascarpone would have been better, as we all felt that it tasted a bit heavy on the coffee and could have used a bit more custard. BUT, it was still damn good and needs to be shared.
Nona's Tiramisu
2016-03-11 14:19:09
Serves 1
Nutrition Facts
Amount Per Serving
* Percent Daily Values are based on a 2,000 calorie diet. Your Daily Values may be higher or lower depending on your calorie needs.
Ingredients
3 cups of espresso, cooled
1 package of ladyfingers (about 50 ladyfingers)
5 eggs, separated
5 tablespoons of sugar
500 grams of mascarpone
Cocoa for dusting
Instructions
Working quickly, dip each lady finger, one at a time into the espresso, on both sides. Don't let the ladyfingers sit in the espresso, as they will absorb way too much liquid. A quick dip.
Place each ladyfinger side by side, to fill in the space of the pan.
Once your bottom layer has been filled with ladyfingers, put half of your custard on top and spread smooth.
Repeat with another layer of ladyfingers.
Finish with the remainder of your custard.
Dust generously with cocoa to finish.
Enjoy!!!
http://www.bossoftheapplesauce.com/
(Source: Boss Of The Apple Sauce)
The first time I made these was for my daughter's 3rd birthday, this past year.  I knew she would love them because she's crazy about marshmallows!  She actually thought these were her birthday cake, until her amazing Octonauts themed cake arrived.  I've made these marshmallow pops many times, for different reasons.  They're tedious, but worth the effort.  Here's what happened…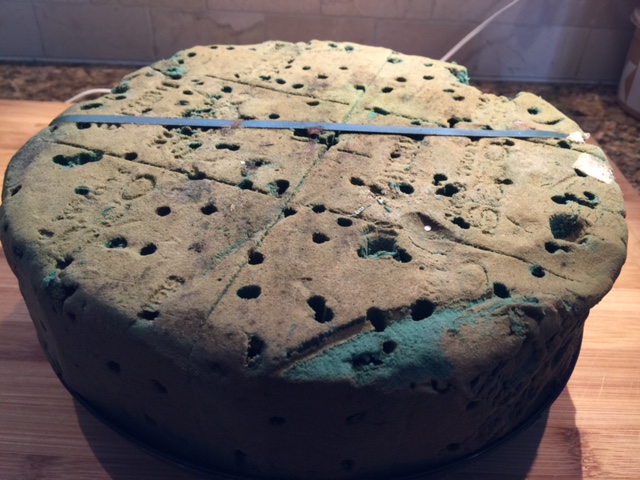 This is an oasis.  Florists use these for bouquets, which I'm sure you already know.  My husband has always been good about sending me flowers and this is from one of those moments.  For my last birthday, he sent me a bouquet that looked like a cake!  I saved this oasis because I knew I could use it for something just like this!  If you don't have an oasis, you can use a styrofoam cake form.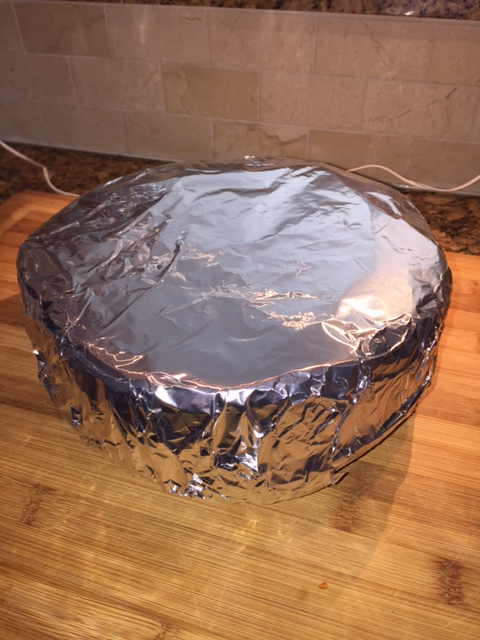 You'll want to cover it well with tin foil.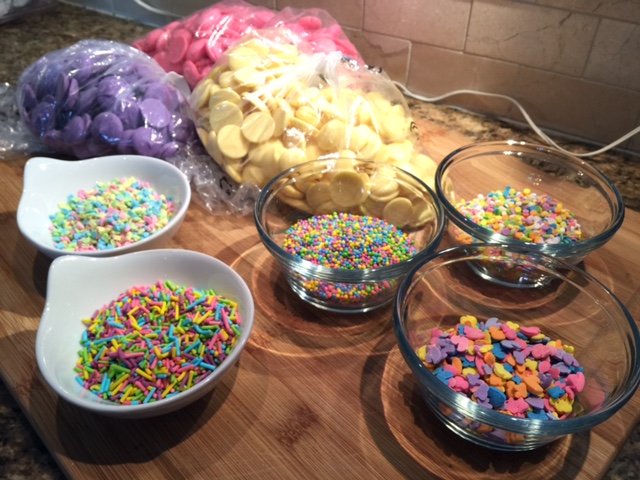 I chose Easter colors for these pops.  Not shown in the picture are the very important marshmallows and lollipop sticks!  You can get all of these ingredients at your local Bulk Barn, or most cake decorating stores.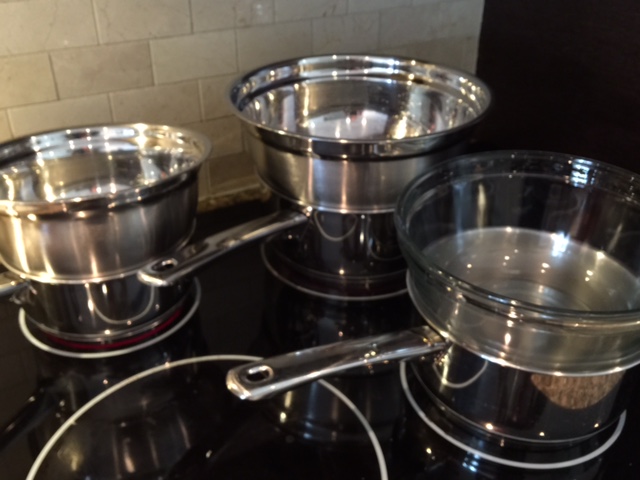 If you can, melt all the chocolates you plan to use at once.  Will save you time.  This step in your marshmallow pop process is fairly important, as you can overheat chocolate pretty easily.  These are make-shift double boilers, and they work perfectly.  You want to make sure that the water in each pot isn't touching the bowl that is sitting on it.  To begin, turn your heat to medium, to get the process started.  Once you see any steam coming out the sides of the bowl, you can remove it from the heat.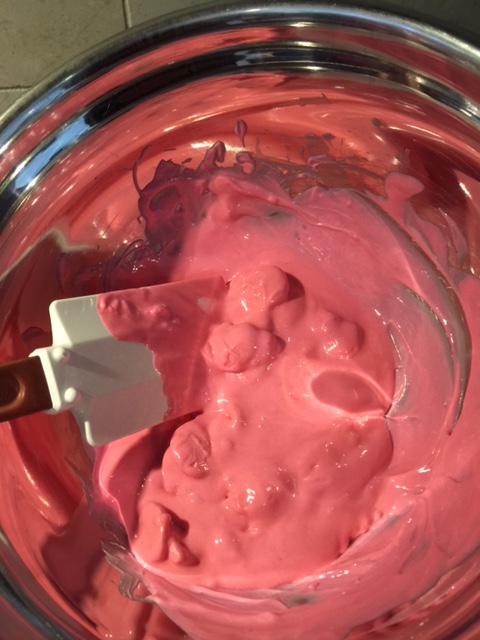 This is an example of the pink wafer chocolate I had melting.  It's off the heat at this point, and there is plenty of internal heat in this chocolate to help melt this chocolate down.  It's important to remove your chocolate at around this stage, so that it keeps a loose, velvety consistency once melted.  If overheated, it can remain thick, almost burnt.  I've done this!  To keep the consistency where you want it, leave it to sit on a double boiler, that's off the heat, while you dip your marshmallows. This will keep it from seizing.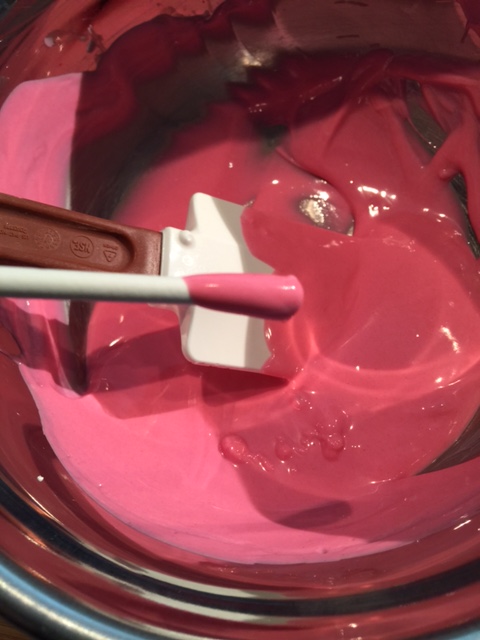 First thing you want to do is dip your lollipop stick into the chocolate before you insert it into the marshmallow.  The will ensure that your marshmallow doesn't slip around the stick after being dipped.  It sets it.  It's an important step.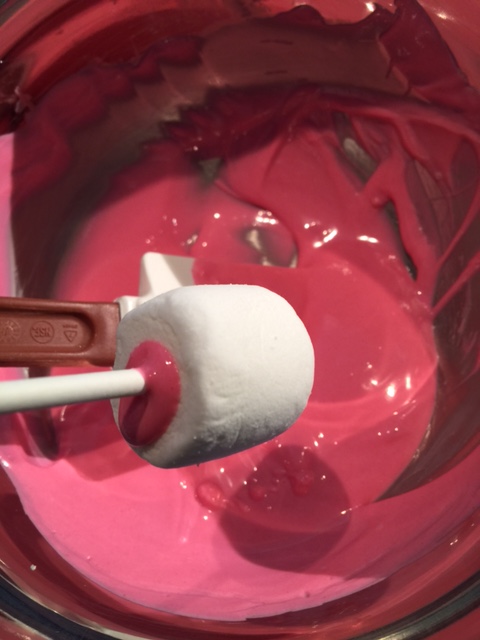 Skewer your marshmallow onto the stick until you can feel the tip at the top of the marshmallow, but you can't see it.  You don't want the stick to pierce the other end of the marshmallow.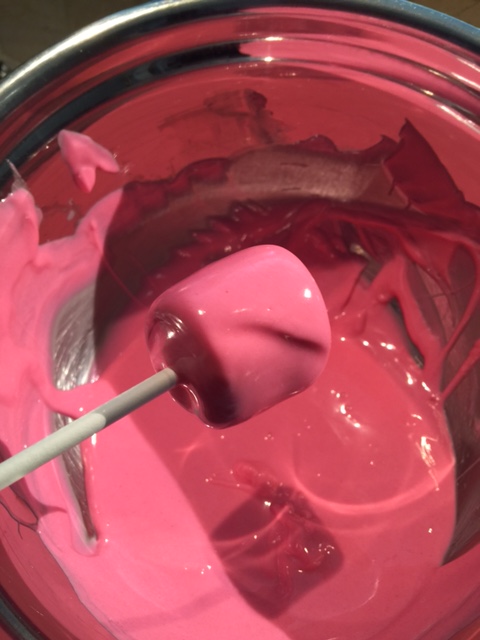 Coat each marshmallow fairly quickly.  You don't want it sitting in warm chocolate, or it will begin to melt and its shape will change.  This is the tedious part.  You will want to make sure enough of the chocolate has drained off before you coat the marshmallows, or you will have a drippy, chocolatey mess.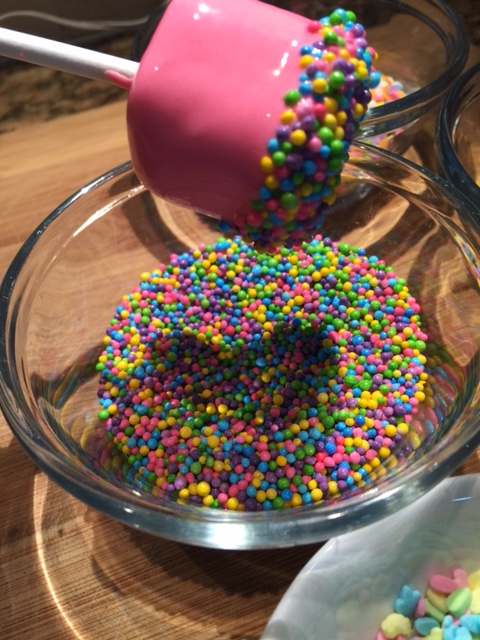 Next step.  Coating.  I chose various sprinkles for all of my marshmallows this time around.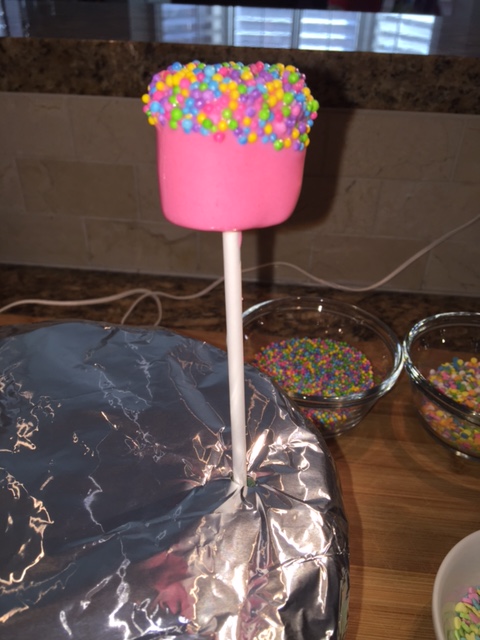 This is what you want.  It can stand upright and has set enough that it isn't dripping.  It's good to go!
I don't know any kid that wouldn't love the sight of these!  Take the time, and make these.  Especially, if you have little people in your world!
Here's what you need to do…
Marshmallow Easter Pops!
1 bag marshmallows
1 cup each, pink, yellow, and purple chocolate wafers
Variety of sprinkles for coating
Lollipop sticks
Melt the chocolates over a double boiler until melted.  Coat the tips of each lollipop stick, as you skewer each marshmallow, with the chocolate you will be using for dipping.  Dip each marshmallow into the chocolate and tap off any excess.  Coat with desired topping.
Enjoy!!  Happy Easter!
(Source: Adapted from http://www.foodnetwork.com/recipes/ree-drummond/marshmallow-pops.html)