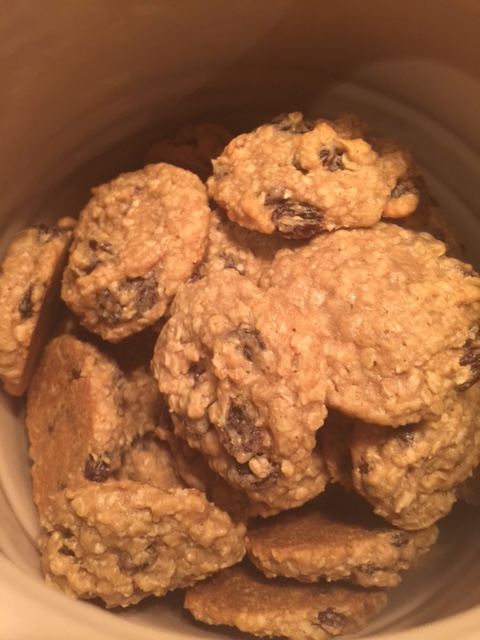 As I sit here at 7am on a Saturday morning with a tea in my hand, the fire lit and debating eating an oatmeal raisin cookie that I made last night, I thought it might be a good time to write a post about them! And eat a cookie. It's basically breakfast ingredients, right??
For Christmas, my husband got me a Le Creuset cookie jar! Cute gift, since cookies are kinda my thing. At least at Christmastime. Little did I know, he had a plan that I should keep this cookie jar full of cookies all the time! Sneaky.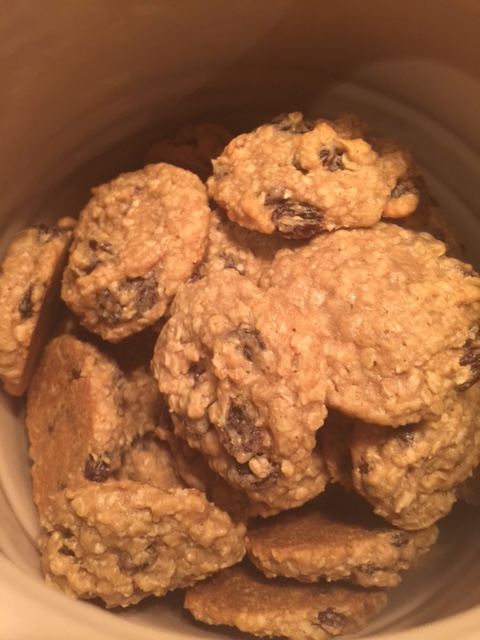 He's been asking for oatmeal raisin cookies for weeks! I promised him I would make them once the jar was empty of the rice krispy treats I had made previous. Now that report cards are done, the pressure is off, and it's the start of the weekend, I thought that last night was the perfect night to make them!
I found this recipe over 10 years ago on a bed and breakfast site that I can no longer locate. I have tweaked this recipe quite a bit over the years. At Christmastime, I make these cookies, with cranberries and white chocolate chips. They have been a long time favorite.
The original recipe is made with shortening, which I generally don't like to bake cookies with. I've tried this recipe with both salted and unsalted butter. Either is fine. I, honestly, don't notice much of a difference. In truth, I think I prefer these cookies made with salted butter. I have also cut back on the sugar in this recipe, as I found 2 cups to be way too much. I opted to add more brown sugar, because I like my cookies chewy. But, if you like a crispier type of cookie, just switch the amounts of white and brown sugar.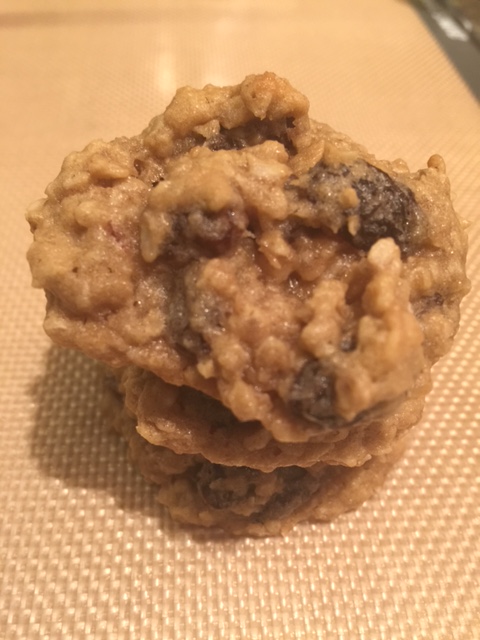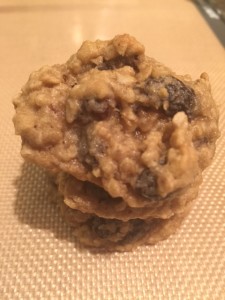 Oatmeal Raisin Cokies
2016-03-11 13:03:18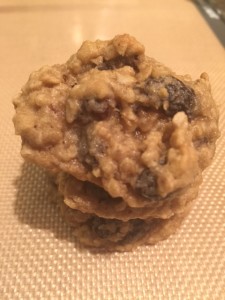 Yields 3 Dozen Medium Cookies
Nutrition Facts
Amount Per Serving
* Percent Daily Values are based on a 2,000 calorie diet. Your Daily Values may be higher or lower depending on your calorie needs.
Ingredients
1 cup, or 2 sticks, butter (softened at room temperature)
1 cup brown sugar
1/2 cup white sugar
2 large eggs
1 teaspoon vanilla
1 1/2 cups flour
1 teaspoon baking soda
1 teaspoon salt
3 cups quick cook oatmeal
2 cups raisins
Instructions
Preheat oven to 350 Farenheit
Cream butter and sugars together.
Add the eggs and vanilla.
Slowly add flour, baking soda and salt until combined.
Add oatmeal and raisins until all is combined.
With your cookie scoop, or spoon, drop cookies onto a parchment or silpat lined cookie sheet.
Bake for 10 minutes - A medium sized cookie yields 3 dozen.
Enjoy!
By Sarah Nolan
http://www.bossoftheapplesauce.com/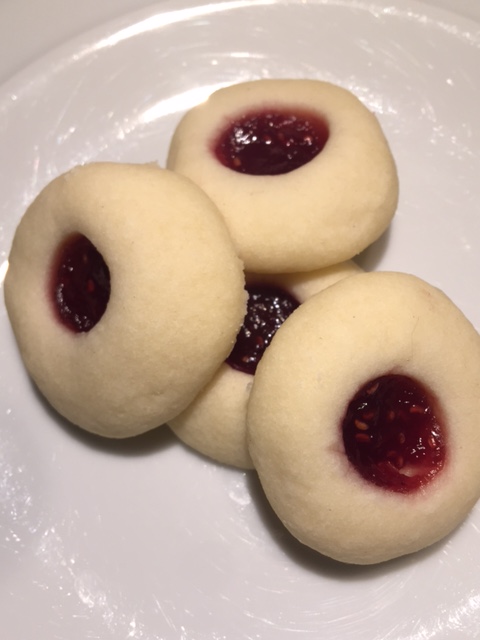 I have been making shortbread cookies since I was a kid, helping my mom press out the molds and decorate the cookies. But, I never liked eating them. I'm sure my taste buds have changed since then, but my memory of shortbread cookies is that they taste like flour. Blech!
10 years ago at work, we had a cookie exchange, and my good friend and colleague, Alex, made these whipped shortbread cookies, minus the jam. Since I had my preconceived notions, I didn't try them at first, but took them home to my mom, who I knew would love them. She liked this recipe enough that I tried one, and I liked them enough to ask my friend for the recipe! I have been making them ever since.
When I was a kid, we always made two kinds of shortbread cookies – ones that the kids could decorate and ones that my mom, especially, liked to eat, with jam. So, ever since I was given this recipe, I have made these shortbread cookies for my mom. And other people too, but my mom is my motivation.
So, let's get to it!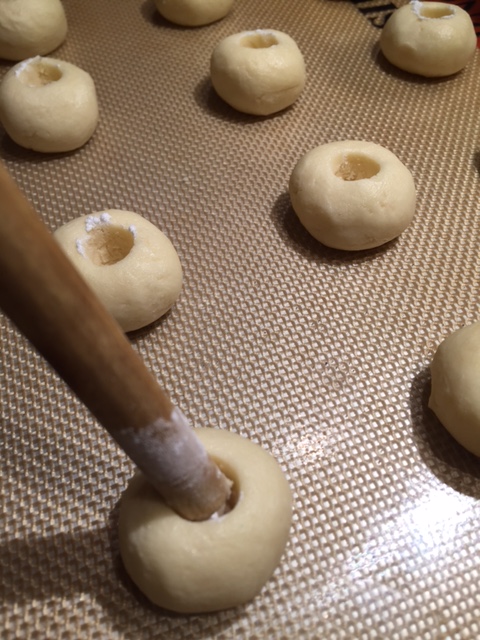 After forming the cookies into balls, I use the handle of a wooden spoon to help make the centers for the jam. I dip the wooden spoon in icing sugar, so that it doesn't stick to the cookie dough. BUT, you could easily use your thumb to make the indent.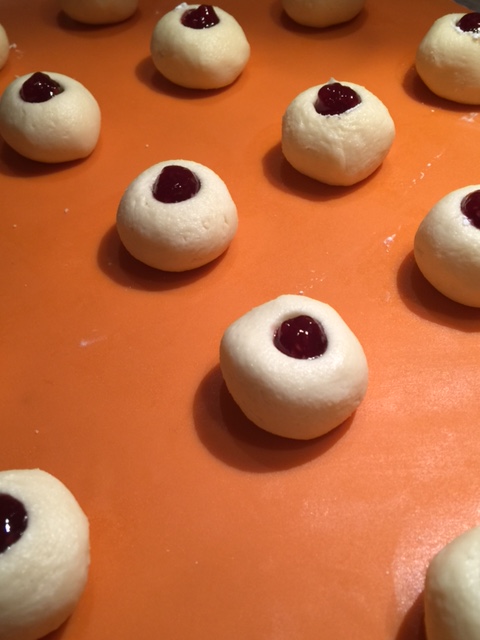 This is what the cookies look like before they are baked. Be more generous with the amount of jam than you might feel comfortable with. The water in the jam evaporates and the jam spreads out. More is more, in this case.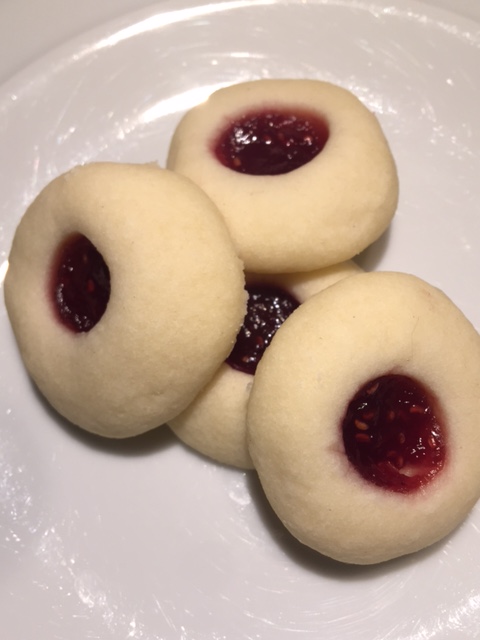 Baked. Cooled. Yummy!!
Whipped Shortbread Cookies with Strawberry Jam
2016-03-11 14:49:31
Nutrition Facts
Amount Per Serving
* Percent Daily Values are based on a 2,000 calorie diet. Your Daily Values may be higher or lower depending on your calorie needs.
Ingredients
1 pound of salted butter
1 cup corn starch
1 cup icing sugar
3 cups flour
1/2 cup raspberry jam*
Instructions
Preheat oven to 300 F.
In a mixer, cream butter.
Slowly add all the dry ingredients.
Blend until combined.
With a tablespoon scoop, measure each cookie, and roll into a ball.
Using the end of a wooden spoon, or your thumb, dipped in icing sugar, make an indent for the jam.
Fill the center of each cookie with about a 1/4 teaspoon worth of jam, depending on size of indent. Don't be afraid to be generous with the jam.
Bake for 15 minutes. They are fragile, so allow to cool for a couple of minutes before transferring to a cooling rack.
Enjoy!
Notes
*Using a freezer bag, place your jam inside and seal the bag. Snip the bottom corner of the freezer bag and use as a make-shift pastry bag. Pipe the jam into each cookie as needed. Throw the bag away once finished.
By Sarah Nolan
http://www.bossoftheapplesauce.com/
(Source: Boss of the Apple Sauce)
I was given little cookie cutters several years ago, that I have never used for cookies. Last year, I had the thought of using them as chocolate molds. I did a little research, because I was worried that, given there was nothing to secure the melted chocolate, it would all seep out from underneath. As long as I hold the cookie cutters in place as I put the first layer of chocolate in, it works!!!
It's important that you use a good chocolate for this. After all, it is the only ingredient, minus the peppermint. I used Lindt chocolate.
Speaking of peppermint, it is (also) important. You can certainly use peppermint extract, but if you can get to your local cake decorating store, they will carry what you need. Peppermint oil.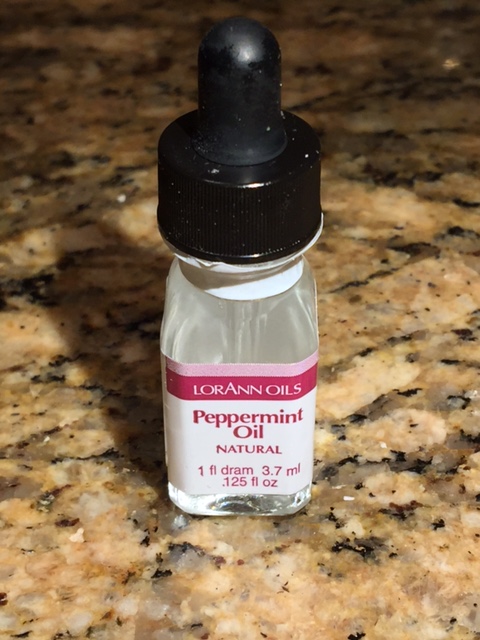 You do not need to add much of this stuff to get the right amount of mint in your chocolate. For 4 bars of white chocolate, I used 6 drops. Also, I only added mint to the white chocolate, and left the milk chocolate alone. I add crushed candy cane on top of the chocolate, so between that and the mint in one of the chocolates, it's enough!
Here's a breakdown of what I did: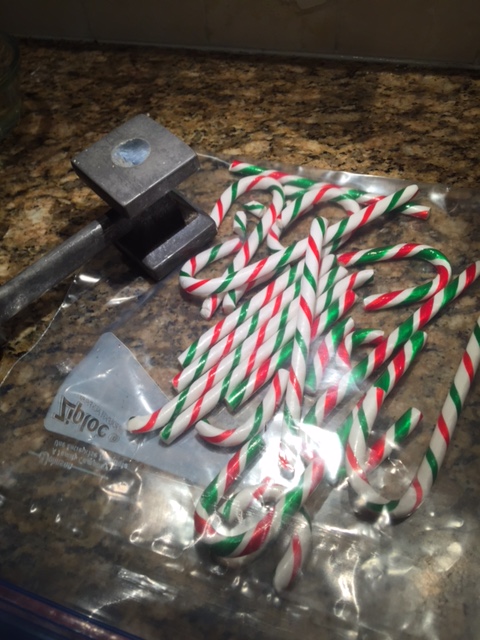 To get started, get your candy canes ready. I wish I had taken an after pic of these suckers. No pun intended! Just bash them babies up small enough that the chunks aren't too big.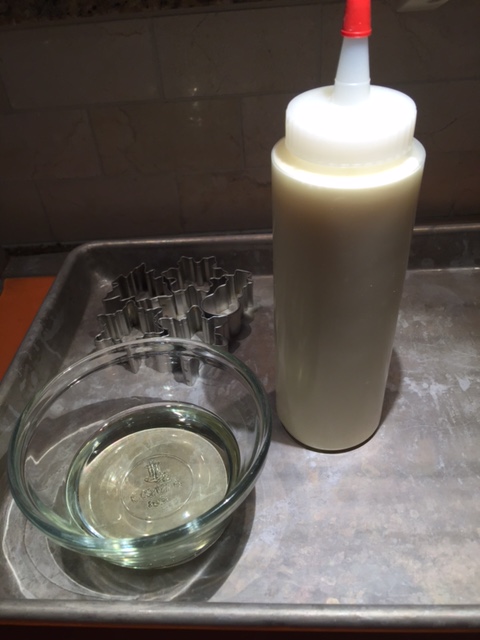 Picture a bottle of melted milk chocolate in a similar bottle. Oops!
FYI….I melted the chocolate, slowly, in the microwave (30 seconds at a time, until melted) and then transferred the chocolate into these bottles. So easy!
I dipped the cookie cutters in oil before I put the chocolate into them, so that they would release more easily once frozen.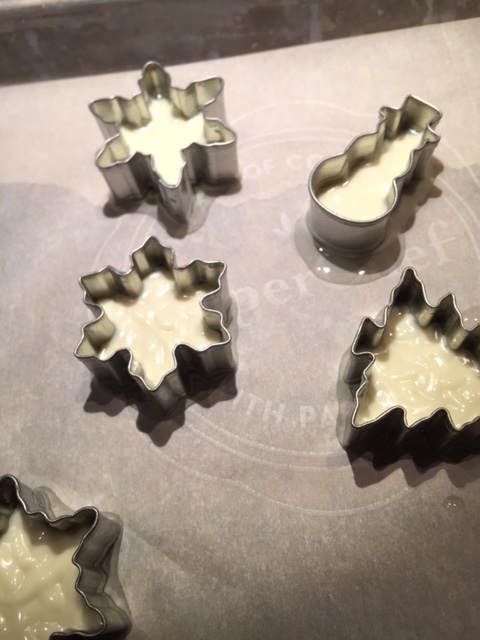 After dipping cookie cutters into oil, fill them up halfway with chocolate, and put them into the freezer to set. About 5-10 minutes. You'll notice the ripples in the chocolate in this picture. You can bang those out if you want to, but its only the first layer, so it's no big deal.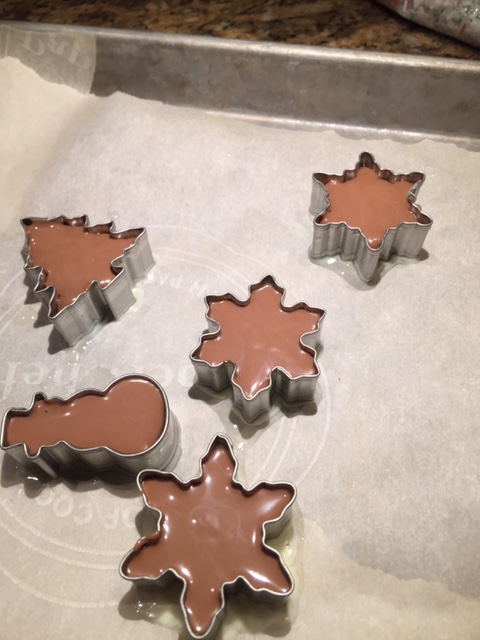 Second layer! Bang the ripples out now!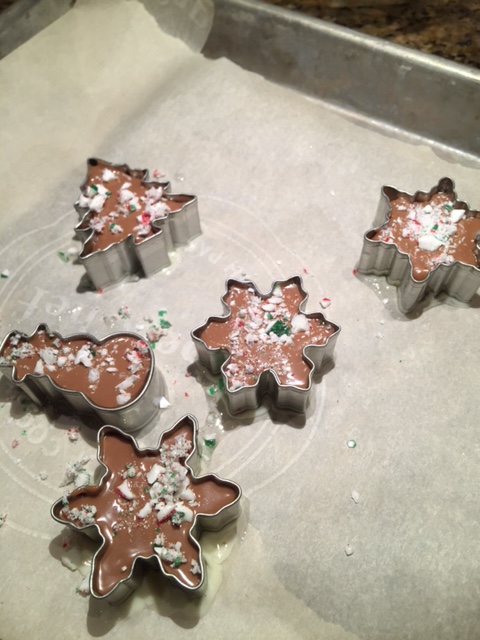 Finish second layer with candy cane and put back into freezer to set.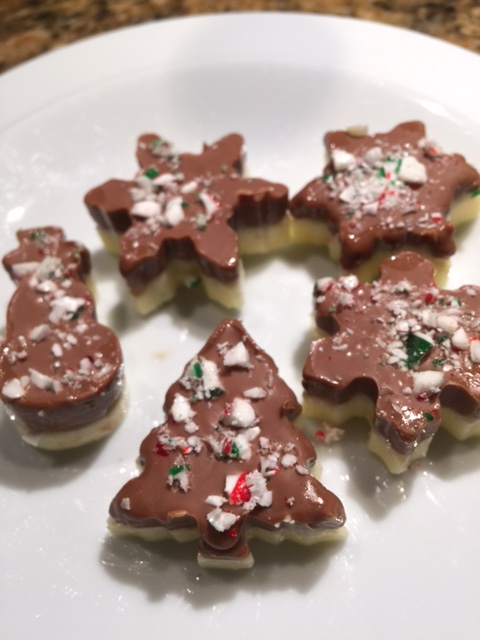 Ta-da! So good! Try them!
(Source: Boss of the Apple Sauce)
Since I'm on day 18 of the Whole 30 plan and I can't eat any sugar, I thought it would be a good idea to post a very sugary icing that I can't currently have!  Make sense? Thought so.
Many years ago, my sister, mom and I took a cake decorating course together.  My mom and I continued on to take a wedding cake decorating course.  I think my sister was in Vancouver when we did this, or she would've joined us for the second course.  Over the years, we have made a lot of cakes!  With that, a lot of icing!  Buttercream icing, of course, but we've also made royal icing, as it hardens well and works well when making adornments, such as flowers.
Royal icing is also excellent when baking cookies.  Which is what I used this recipe of royal icing for.  So, let's get started!  Here's what happened…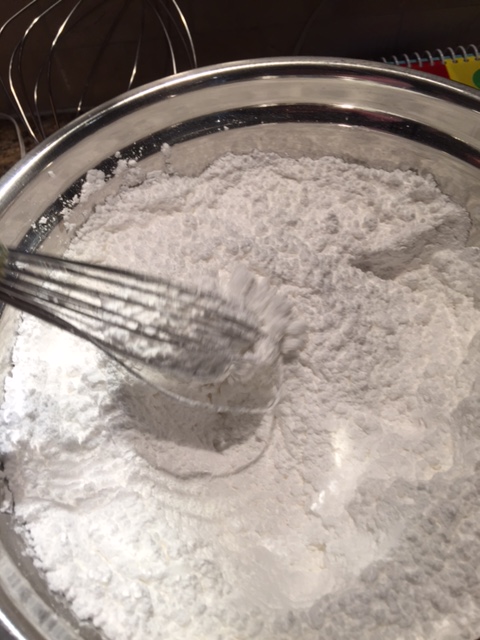 To begin, in a separate bowl, sift all of your icing sugar, so that you don't have any lumps.  If you are like me, and you don't have a sifter, use your whisk to break up some of the lumps.  It's not perfect, but it does the trick!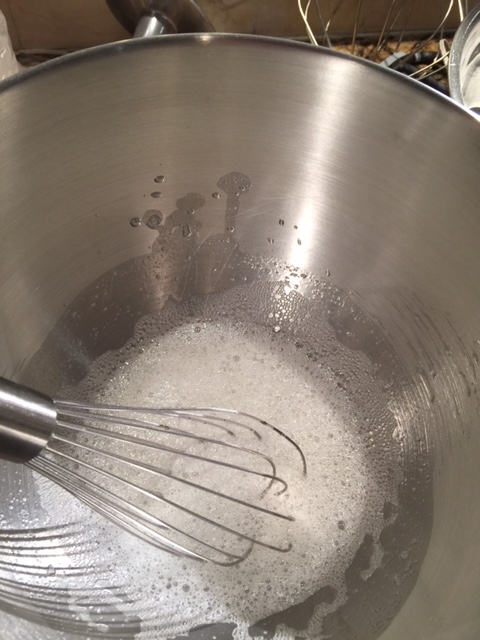 In the bowl of a stand mixer, whisk together the meringue powder and warm water until frothy.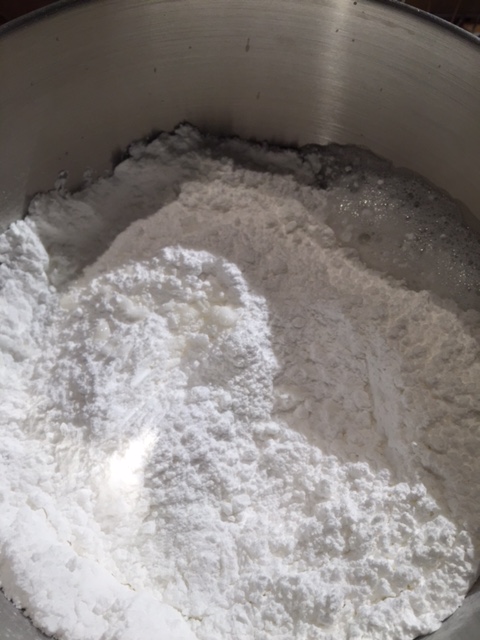 Add your cream of tartar and all of your icing sugar at once to the meringue mixture.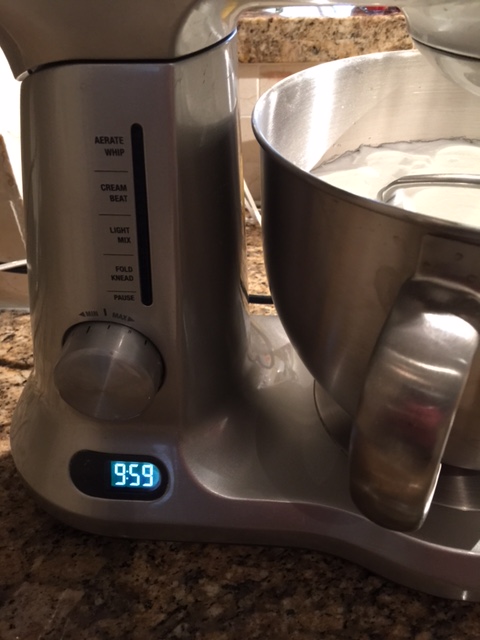 On the lowest setting, using your paddle attachment, mix the ingredients for 10 minutes.  My mixer conveniently has a timer and automatically shuts off after 10 minutes.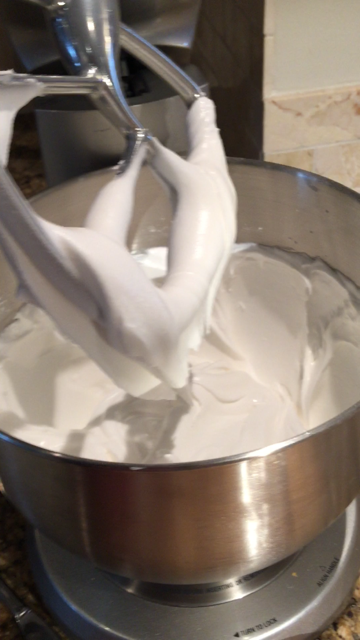 The consistency should look something like this.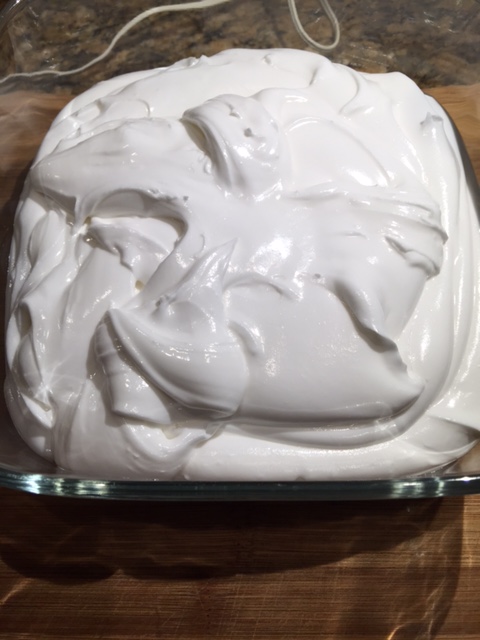 Store, at room temperature, in an airtight container for up to 3 weeks.
Here's what you need to do…
Royal Icing
3/4 cup warm water
5 tablespoons meringue powder
1 teaspoon cream of tartar
1 kg bag of powdered sugar (I measured it out to be about 7.5 cups)
Sift your powdered sugar in a separate bowl and set aside.  In the bowl of your stand mixer, whisk the meringue powder and water until frothy.  Add cream of tartar and powdered sugar all at once.  Mix on the lowest setting for 10 minutes.  Store in an airtight container, at room temperature.
Enjoy!
(Source: http://www.hanielas.com/2010/04/royal-icing.html#.VUKDXCFViko)
Seemed appropriate that my first post on my blog be cookies, since I bake so many of them!  This recipe is your basic cookie dough recipe, and you can substitute any chocolate or add other yummy additions!  Unless you're adding oatmeal, as you would then need to adjust your flour.  In this recipe, I used 2 Dairy Milk chocolate bars because that's what I had at home.  I was going to just eat some of the chocolate with my tea, but with a sick 3 year old napping upstairs, I decided to bake her some cookies to wake up to instead.  Here is what happened….
Cut up chocolate last to ensure you still have some left by the time you need to add it into the batter! 🙂  Of course, I added this picture first as a reminder to do it last. Make sense? I thought so.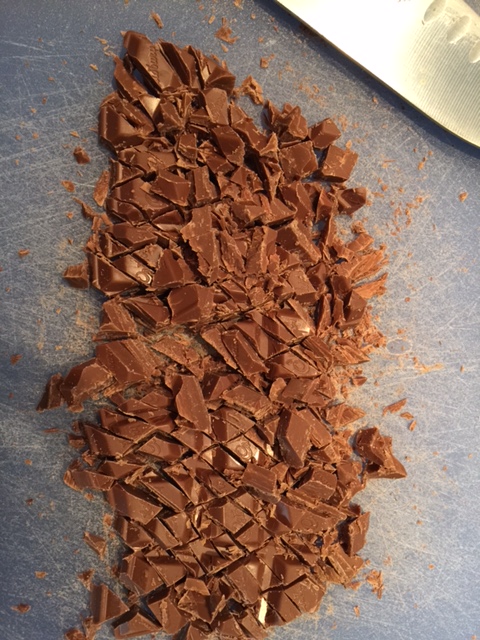 Mmmmmm…that is all.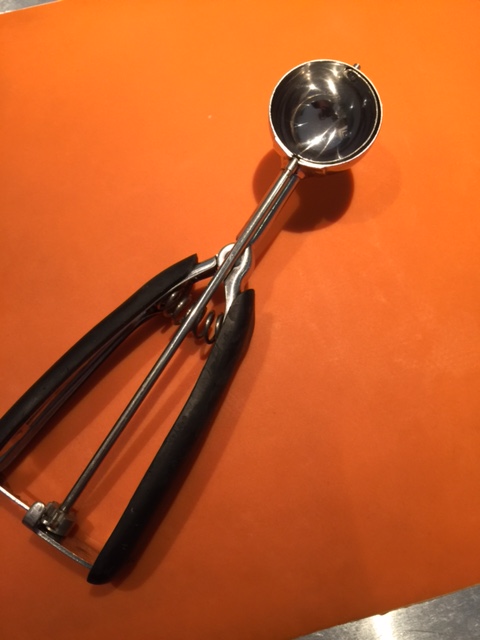 If you don't have this tool, get it. It comes in several different sizes. This one here is the 1 1/2 tablespoon size. The best tool I've ever had for drop cookies!
See how perfectly uniform each cookie is? Makes me happy. Note to self: Get silpat in prettier colour.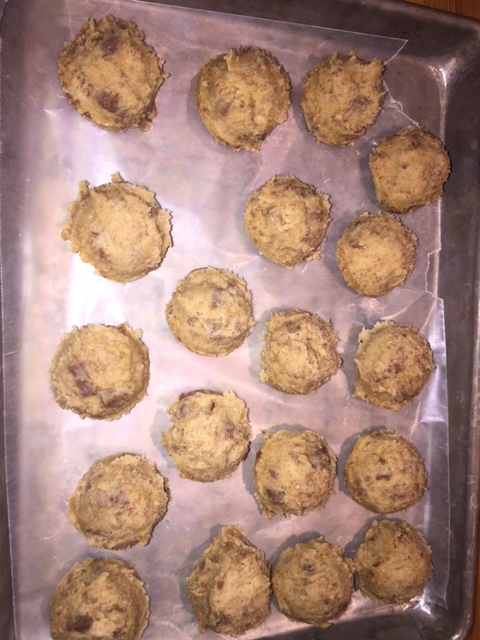 Unless you need to bake up the whole batch, freeze some for later! Place a tray with parchment or waxed paper, scoop as many on the tray as you'd like to freeze. Place in the freezer to firm up, about 20 minutes. Note to self: Rotate camera.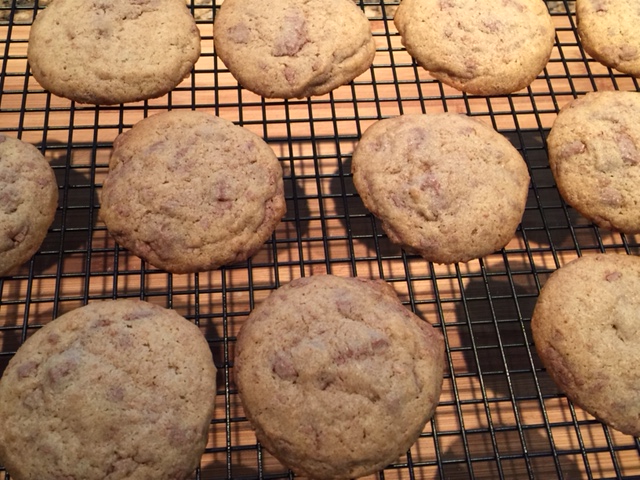 Ta-da! I only made a dozen and froze the rest. There are only 4 left since I made them yesterday. I know my husband has had none, my daughter has had two, that means…. This is why it's a good idea to freeze some for later!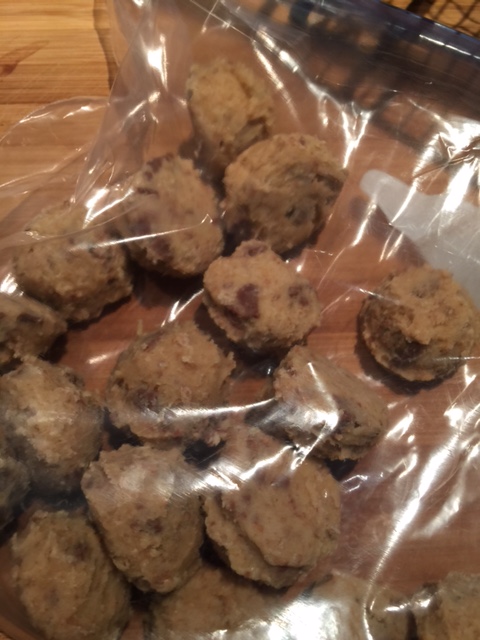 Once the risk of each cookie touching the other and sticking together and destroying any chance of future cookies has passed (aka they're frozen enough), place them in a freezer bag and put them in your freezer for the next time you have a cookie craving!
Here's what you need to do:
Do your 'mise en place' and get all of your ingredients ready before you start.  You will thank yourself later. Or, thank me now.  You're welcome!
Milk Choco Chunk Cookies
1 cup softened butter*
1/2 cup granulated sugar
1/2 cup brown sugar
2 eggs**
1 teaspoon vanilla extract
1 teaspoon salt
1 teaspoon baking soda
1 cup all-purpose flour
1 cup whole wheat flour
2 milk chocolate bars of your choice cut up into chunks (I used Dairy Milk)
Preheat oven to 375 F.  Cream your butter and add both sugars until combined.  Add eggs and vanilla and beat about one minute.  Next, add your salt and baking soda, which you can combine with your flour and add slowly all together.  I've added the salt and baking soda separately from the flour, as well.  Both work.  Make sure all dry ingredients have been added and well mixed before you add your chocolate, which is your last ingredient.
Scoop your cookies onto a lined baking sheet and bake for 10 minutes.  If making smaller cookies, adjust your time by one or two minutes.  Transfer to a wired rack and let cool.
Enjoy!
*I used salted butter in this recipe because that is what I had on hand.  This is really a personal preference, in my opinion.  If you feel more comfortable using unsalted butter, go for it!  I haven't felt the need to adjust the salt in this recipe.
**Don't crack your eggs directly into your batter.  You don't want to risk getting egg shell into your batter or possibly a bad egg.