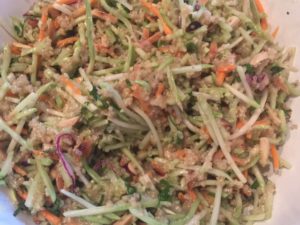 Please don't judge this recipe on my poor picture taking! I'm still learning! And, I was doing it quick, as dinner was about to be served!! I came across this recipe on Pinterest, and it is a keeper!!! It's perfect for a picnic, a pot luck or lunch the next day…. You name it! It's yum. We had it for lunch with BBQ chicken drumsticks AND for dinner with hamburgers and sausages. Happy Canada Day!!
Here's what you need to do:
Slaw:
3/4 cup uncooked quinoa
1 1/2 cups water
1/2 cup slivered almonds
2 cups shredded broccoli slaw (purchased in the prepared salads area of most grocery stores)
Honey Mustard Dressing:
1/2 cup olive oil*
2 tablespoons lemon juice
2 tablespoons dijon mustard
1 tablespoon apple cider vinegar
1 tablespoon honey
2 medium cloves garlic, finely minced
1/2 teaspoon salt and pepper
*the second time I made this, I used Grapeseed oil and it was just as good!
Rinse quinoa thoroughly before cooking. Add 1 1/2 cups of water to a pot with the rinsed quinoa. Bring to a low boil, medium high heat, with the lid off the pot. Turn temperature down to medium low until the water has evaporated. Shut off the heat and place the lid on the pot and let sit for at least 5 minutes. Fluff with a fork and let sit until ready to add to the salad.
Meanwhile, toast the almonds over the stove until they are lightly browned. Don't leave these unattended! They can burn easily!!
Add all of your dressing ingredients into the bowl you intend to use for your salad. Toss in your slaw, quinoa and basil and toss to coat. Add in your almonds. Don't worry if your quinoa is still warm. It won't damage the slaw.
Enjoy!!
(Source: Adapted from: cookiesandkate.com)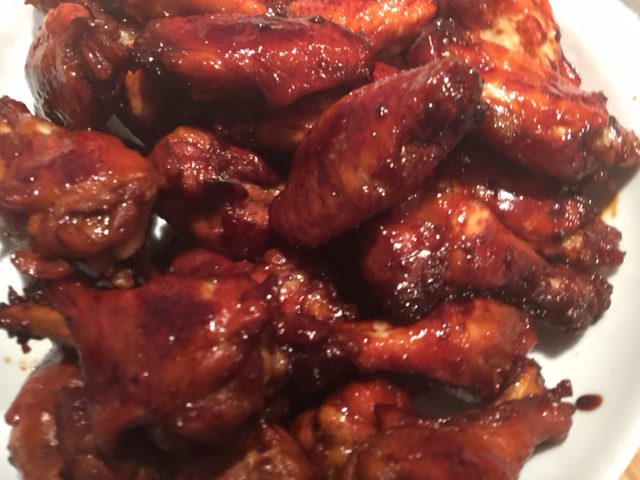 My Dad is a classical pianist. We grew up going to the symphony. When my Dad would have a recital, we often held the reception back at our house. It was always a packed house, and myself and my four siblings helped in the kitchen or as servers. Always on the menu were my Mom's honey soy chicken wings. They were popular. My favorite, for sure.
They cook over the stove top, which I've always liked. But, I am liking it less nowadays. They take a little more time than those that cook in the oven. But, they are super easy, tasty and worth the time!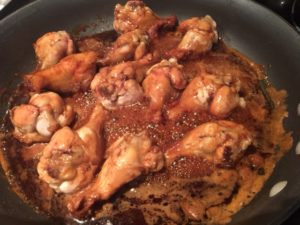 The recipe is super simple. Only 3 ingredients! Soy sauce, honey, and red wine.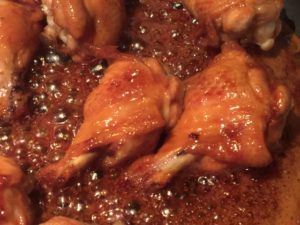 You want to add equal parts honey and soy sauce to a medium/medium hot pan and use the wine to cut the sauce when it starts to get too gummy. I use a 1/4 cup each honey and soy sauce.
This picture is a good example of needing to add some wine. The honey and soy sauce will caramelize and adding a splash of wine will loosen it. Use the wine to loosen the sauce as often as you need until the wings are cooked.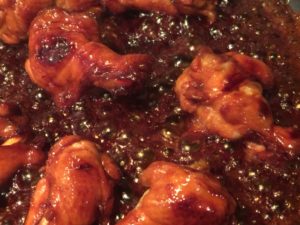 These babies are done and ready to serve! Enjoy!!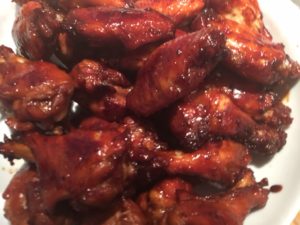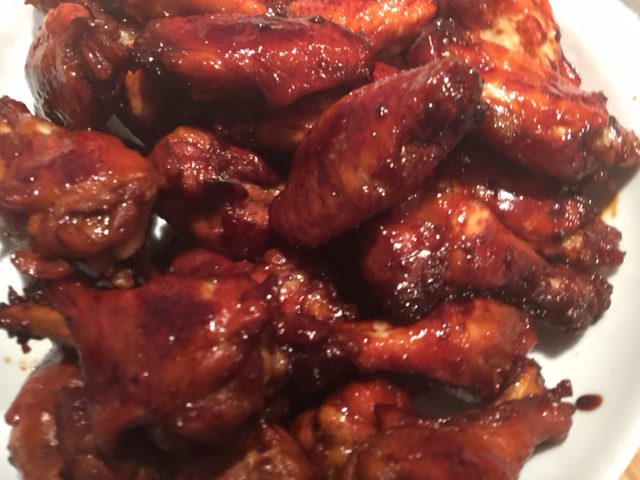 (Source: Boss of the Apple Sauce)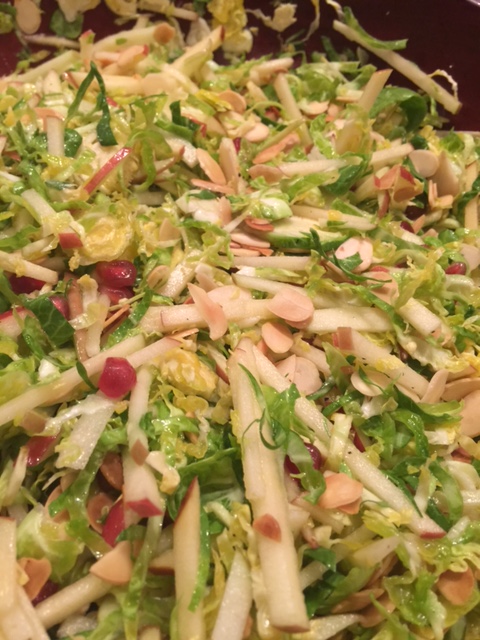 Every five weeks, after I get my hair done, I go shopping at Whole Foods, because it's so close to my salon. It's my little guilty pleasure. When I was there, I saw baby brussel sprouts, and while I have scarring childhood memories of eating brussel sprouts, I wanted to give them another chance, with bacon. While I was in the produce area, there happened to be someone showcasing brussel sprouts in a fresh salad!! I was intrigued. I tried it. I liked it!!! I thought it would be a perfect salad for Christmas dinner. So, that's what I did. I had no idea of amounts of anything. All I knew was the ingredients I needed.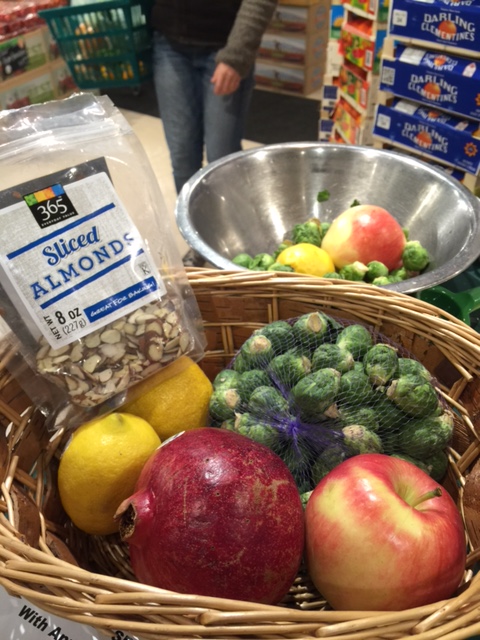 I took this picture at Whole Foods, so that I would remember what I needed to buy.
I made enough salad to feed many people. It's a nice salad to adjust easily for a small or large crowd. I, also, used a mandolin to shave my brussel sprouts, but you could easily use a knife. Just make sure to slice them thinly.
To release the pomegranates from their skin, I like to use a meat tenderizer, instead of the wooden spoon that is so often suggested. I just don't find that the spoon does the trick. But, in a pinch, you can easily find pomegranates ready to eat. You will just pay quite a bit more.
For the almonds: I toasted mine. You can do this in the oven, but I did mine in a pan over the stove, with no oil or butter. This process doesn't take long, so don't leave them sitting for too long without moving them around.
For the vinaigrette: Usually for a dressing like this, follow the general rule of 1 part acid (in this case, lemon) to 3 parts oil. Add about 1 teaspoon salt and 1/2 teaspoon pepper. Shake, shake, shake.
Raw Brussel Sprout Salad with Pomegranate and Apple
2016-03-11 14:46:07
Nutrition Facts
Amount Per Serving
* Percent Daily Values are based on a 2,000 calorie diet. Your Daily Values may be higher or lower depending on your calorie needs.
Ingredients
1 pound brussel sprouts, shaved
3/4 cup shaved almonds, toasted
1 to 2 apples, sliced like matchsticks (or julienne)
1 Pomegranate, seeds removed
1 lemon, juiced
1/2 (to 3/4) cup olive oil
1 teaspoon salt
1/2 teaspoon pepper
Instructions
Mix the lemon, olive oil, salt and pepper together and set aside.
Shave the brussel sprouts.
Add them into a salad bowl with the apple and pomegranate.
Drizzle with vinaigrette and top with almonds.
Enjoy!
http://www.bossoftheapplesauce.com/
(Source: Adapted from Whole Foods)
Since I've returned to work, planning quick and tasty weeknight meals has become a top priority for me. I have to think of my 4 year old, Leila, when I consider our meals, not because I don't think she'll try what I put in front of her, but because I want her to be excited for dinner and not always dreading trying something new.  She loves chicken.  She loves corn flakes.  She loves parmesan cheese.  Winner, winner, chicken dinner!!!
They look good, right? But, they aren't cooked yet!
Let's talk dipping sauce for a second.  Because, you can't have chicken fingers without a sauce!!  I like sauce with virtually everything. One of my favourite go-to dipping sauces is Honey Mustard.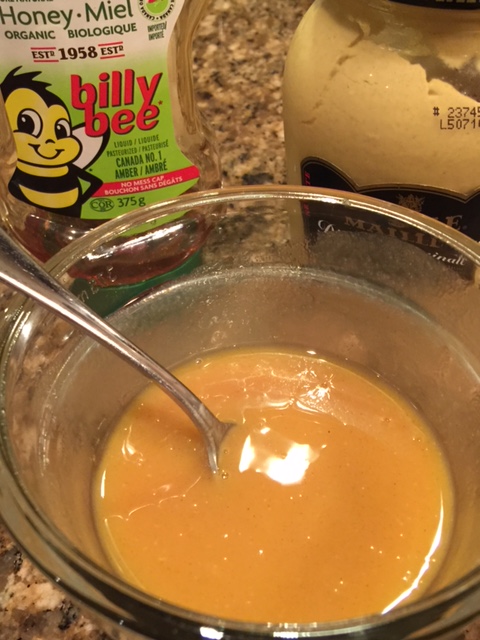 This is SUCH an easy sauce to make.  Just equal parts honey and dijon.  Stir, stir, stir.  Set aside.  You're welcome!
Back to the meat…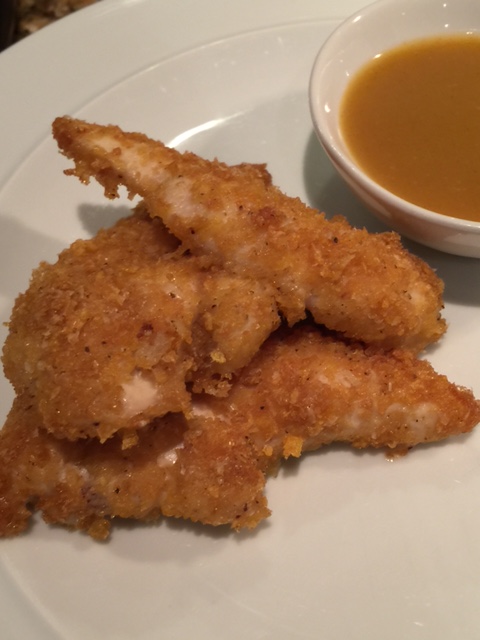 Here's what you need to do:
Cornflake Chicken Fingers
1 1/2 pounds chicken tenders (0r boneless, skinless chicken cut into strips)
1 1/2 cups fresh corn flake crumbs
1/2 cup parmesan cheese
1/4 teaspoon pepper
1 teaspoon garlic powder
1 1/4 sticks butter, melted
Preheat oven to 400 F.  In a shallow bowl, mix together the corn flake crumbs, parmesan cheese, pepper and garlic powder. Set aside.  Place melted butter in another shallow bowl.  Line a baking sheet with aluminum foil.  Take one tender at a time, and dip into butter with one hand, and into corn flake mixture with the other hand.   Set onto baking sheet.  Repeat until all tenders are coated.  Bake for 25 minutes.  Serve with your favorite dipping sauce.  Enjoy!
(Source: Adapted by: Crispy Cornflake Chicken Strips)
For tonight's meal, I made Asian lettuce wraps.  Nothing crazy-new, but just that little bit different.  At first, my daughter was like, no way!  But, then she watched my husband and I assemble our wraps, and she wanted to give it a try. She liked it instantly.  *** Proud mommy moment ***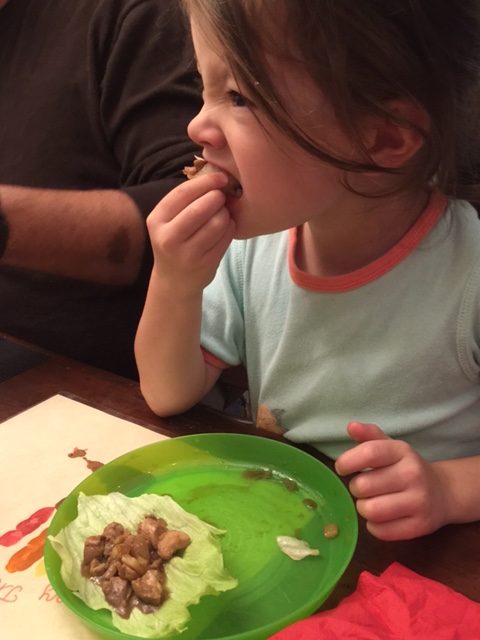 Don't mistake that face for disgust.  That's lettuce crunching action!
We didn't get home until about 5:30PM tonight.  Despite the steps to making these wraps, we were sitting down, eating, by 6:30PM,  Not bad, I'd say!  But, if you do have time, prepping the chicken in advance would save you some!  What I liked the most about these wraps, particularly for kids, was that they weren't spicy.  In fact, the sauce to pour over top of them was a bit sweet.  I liked it enough to share the recipe with you. 🙂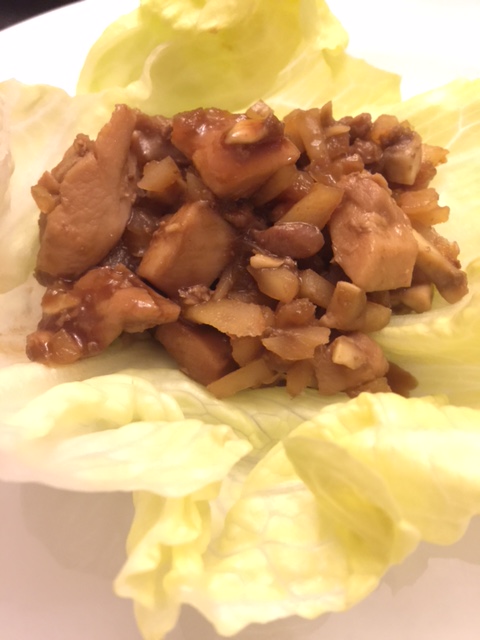 Here's what you need to do….
Asian Lettuce Wraps
Stir Fry Sauce
2 tablespoons honey
1 teaspoon rice wine vinegar
2 tablespoons low sodium soy sauce
Dipping Sauce
1/4 cup honey
1/2 cup warm water
2 tablespoons low sodium soy sauce
2 tablespoons rice wine vinegar
2 tablespoons ketchup
1 tablespoon freshly squeezed lemon juice
1/8 teaspoon sesame oil
1 tablespoon dijon mustard
Chicken Stir Fry
1 tablespoon canola oil
1 tablespoon sesame oil
6 boneless, skinless chicken thighs
1/2 can, drained, water chestnuts, diced
1/2 cup mushrooms
1/2 cup finely diced yellow onion
2 cloves garlic, minced
Cabbage leaves or Iceberg lettuce leaves
Directions: 
Prepare the stir fry sauce in a small bowl and set aside.
To prepare the dipping sauce, add the ingredients, and bring to a simmer on medium heat.  Cook for about 5 minutes.  Set aside for serving.
For the stir fry, add both oils to a hot skillet, set to medium-high.  Add chicken and cook until no longer pink, about 10 minutes.  Drain all excess liquid.  Pour in the Stir Fry Sauce.   Add all other ingredients, except for the lettuce leaves, and let cook for about 5 minutes.
Serve with lettuce leaves.  Enjoy!!
(Source: Adapted from Skinny Ms)
During the holidays a couple of years ago, my brother-in-law, Marty, who is a trained and super talented chef, was making these yummy hors d'oeuvres for us.  I instantly loved them and stood watch beside him to learn how to make them!  On Monday, I had some friends over to watch The Bachelor Finale and thought these would be a great little bite for everyone to enjoy! Here's what happened: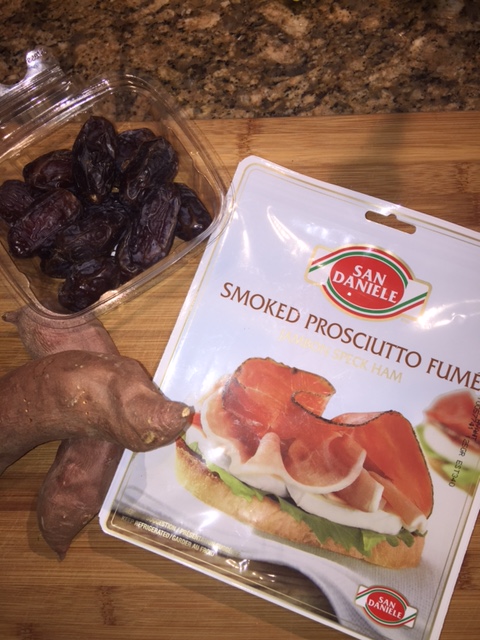 This is all you need.  3 ingredients!  I love that!  Earlier in the day, I roasted off those two lovely sweet potatoes you see in this picture.  With a preheated oven, set to 350 F, you can put those little lovelies in there and pretty much forget about 'em for the next 30 minutes or so.  It is a good idea to pierce the skin of the sweet potatoes with a fork, so that they won't burst in the oven.  Also, and even more importantly, put a tray on the bottom rack of your oven to catch any juices that may leak from your sweet potatoes or you will have one big mess to clean up!!
I forgot to take a picture for this next part, but once those sweet potatoes have cooled, cut through the skin and scoop out the flesh.  It should be naturally mashed or mushy as you scoop it out, but just make sure there are no obvious lumps.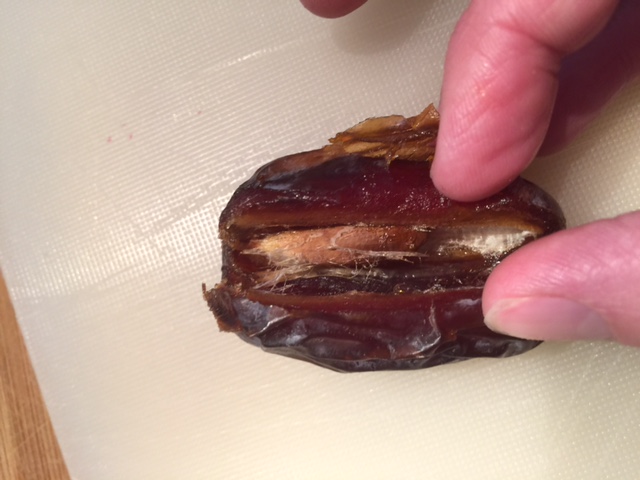 Next, you want to slice each date vertically, to create a little pocket and remove the seed that is inside.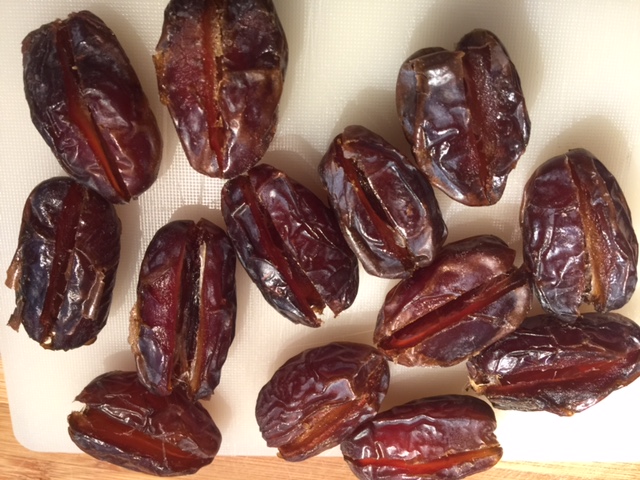 This is what you should have after you're done.  Next, you will add your sweet potato into each date.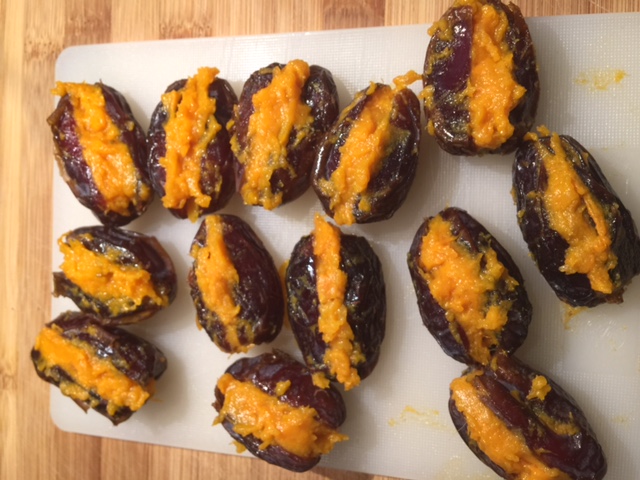 This looks really messy, but don't worry!  You don't have to be fancy with this part because it will all get covered with the prosciutto. You want to put enough sweet potato that it comes up to the level of the date, but isn't overflowing. I just used a spoon to do this.
Next is the prosciutto.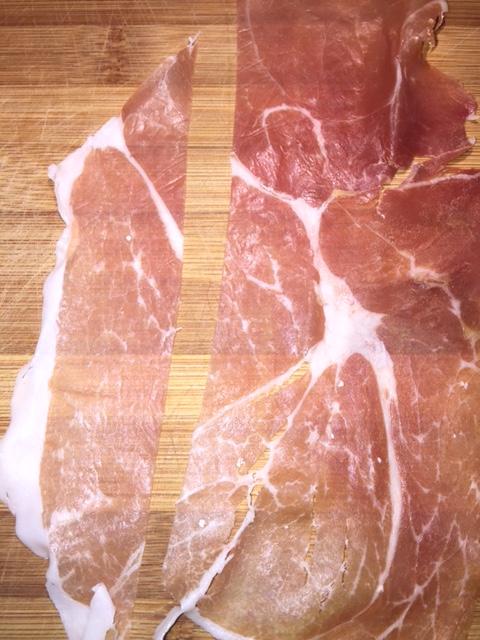 You'll want to slice the prosciutto into strips to wrap around each date.  The strips won't, and don't have to, look as good as the one I show in the picture.  If you mess up a strip, just eat it!  Win-win!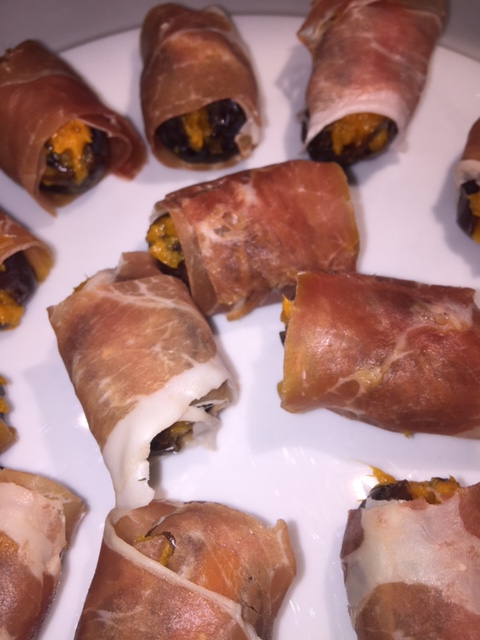 Your dates should look similar to this once you're done wrapping them all.  At this point, you can put some saran wrap over top of them and put them into the fridge until you're ready to bake them off.  A great make-ahead!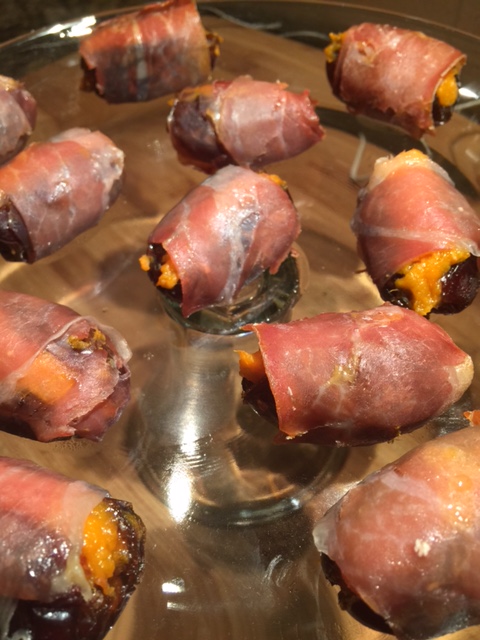 The finished product! You can't really tell from this picture, but the prosciutto is nicely caramelized on the bottom and everything is heated through.  These were in the oven, at 350 F for about 15 minutes.
Here's what you need to do:
1 medium sweet potato
12 dates (I used organic medjool dates)
1/2 pound of prosciutto, sliced for wrapping dates
Preheat oven to 350 F.  Roast your sweet potato until tender to the touch, about 30 minutes.  When cool enough to handle, slice it down the center and scoop out the flesh and place into a bowl. Set aside. Cut into each date to remove the seed and create a pocket.  Place a heaping teaspoon, give or take, into each date.  Wrap with a piece of prosciutto and bake in an oven proof pan or baking sheet for 15 minutes.
Enjoy!!
My sister made this recipe years ago.  It's a surprisingly yummy and really easy bite to pull together.  I decided it should be part of our Bachelor Finale Extravaganza! Here's what happened:
First things first, you need to soak your skewers.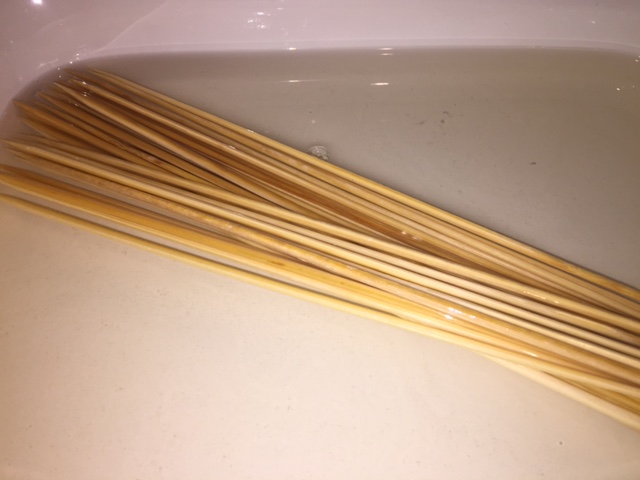 This is an important step or your skewers will burn in the oven while your chicken is cooking.  You want to let these soak for at least 20 minutes.
In the meantime, cut up your chicken.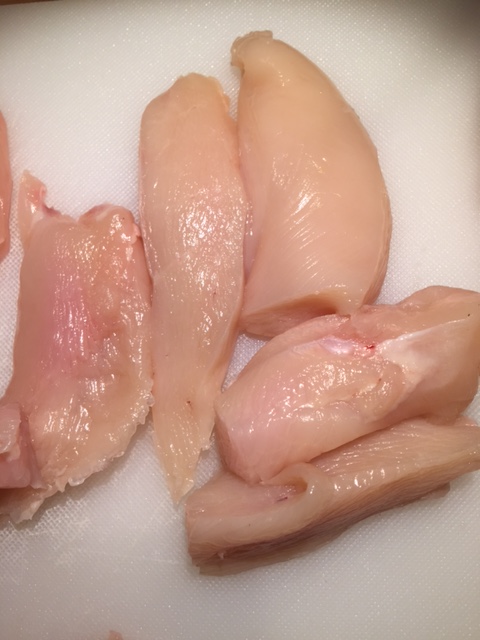 I didn't do a very good job keeping my pieces uniform, but it's no big deal.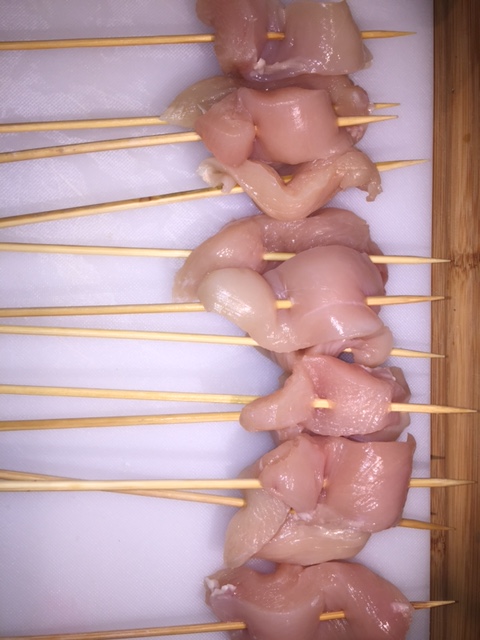 Thread each piece of chicken onto the skewer like an accordion, so that they don't fall off.  Season both sides of chicken with salt and pepper.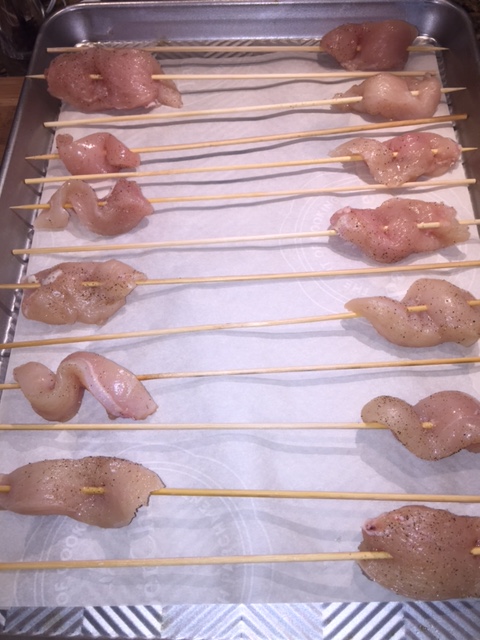 Place on a cookie sheet and bake in the oven at 350 F, until chicken is cooked through.  The timing will depend largely on how big or small your chicken has been cut.  Some of my pieces were in for longer than others, but anywhere from 15-25 minutes.
The original recipe called for Sambal Oelek to be added into the apricot jam, but I didn't have any, so I used this. It worked just as well.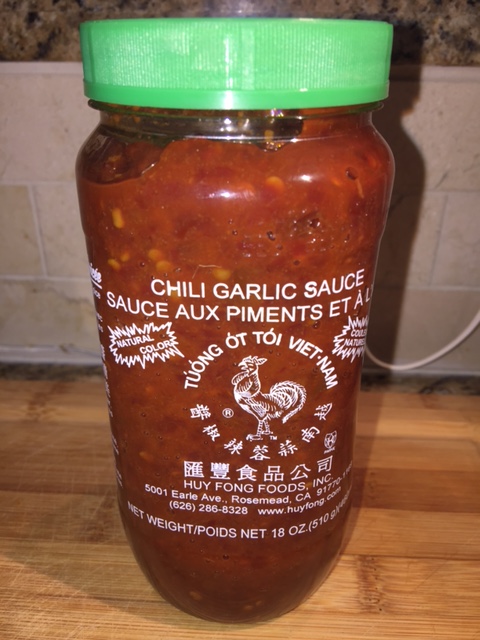 For the next several parts, I didn't take any pictures because I'm a space case and forgot. But, don't worry, it's super easy!!  Let's get straight to the recipe!
Final product.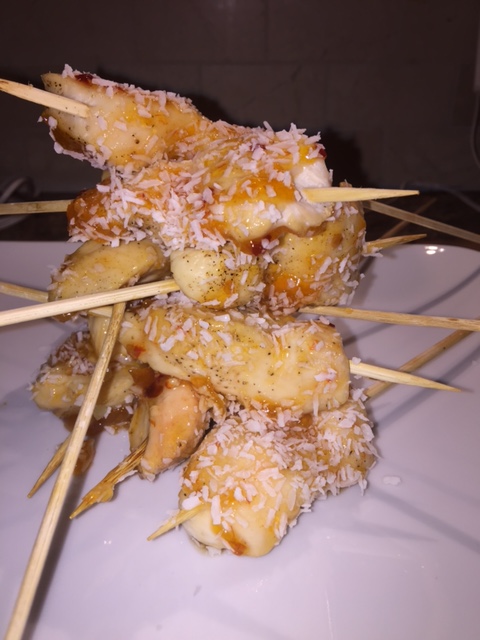 Here's what you need to do:
2 boneless skinless chicken breasts cut up into skewer-sized pieces
skewers
salt & pepper
1 cup apricot jam
1 tsp chili garlic sauce (or Sambal Oelek) – more if you like it really spicy
1/2 cup of unsweetened coconut, toasted
Preheat oven to 350 F. Thread each piece of chicken onto a skewer and season with salt and pepper. Bake in oven for about 20 minutes.  In the meantime, you will want to toast about 1/2 cup of unsweetened coconut over medium heat until the ends have turned light brown. Set aside.  In a pot, stirring frequently, melt down about 1 cup of apricot jam over medium to medium low heat until its consistency is like syrup.  Add your chili garlic sauce and stir until combined.  Remove from heat.
Once your chicken is out of the oven, spoon or brush the syrup mixture onto each skewer and sprinkle with coconut.
Enjoy!