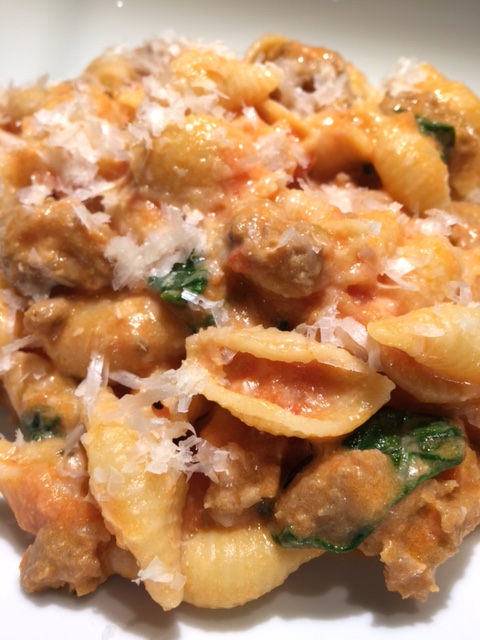 I have been making this dish since I saw Giada making it on her Food Network show a few years ago. She tops this yummy sauce over baked potatoes, but I far prefer it served with pasta. This dish looks really similar to another dish I made, Cheesy Sausage Pasta, but it is very different. I just like to use shells as my pasta of choice. 🙂
There are many things that I like about this dish. It's a great weeknight meal, because it comes together quickly. The sausage adds so much flavor on it's own. It's almost fool proof! You can easily switch out the arugula for spinach, should your local grocery store not carry it. Like I did this time around. I do prefer arugula, though, as it doesn't go mushy as quickly as spinach. But, my daughter loves both, and that's enough for me!
In a pinch, you can use pork sausage for this recipe, as it is more readily available, but be sure to drain off the fat. Sweet sausage is also much more kid friendly than the spicy variety. My daughter picked up on the spice in this dish right away when I couldn't find sweet sausage, and she wasn't as big a fan. So, I stick to the sweet stuff now.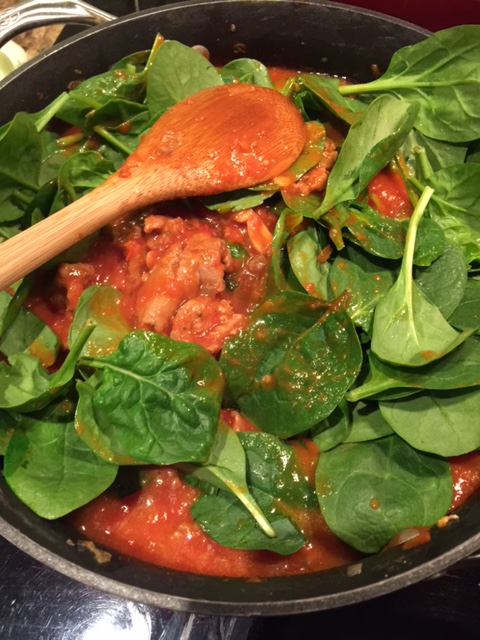 The arugula or spinach will look like too much when you first add it to your dish. But, it will wilt down really quickly.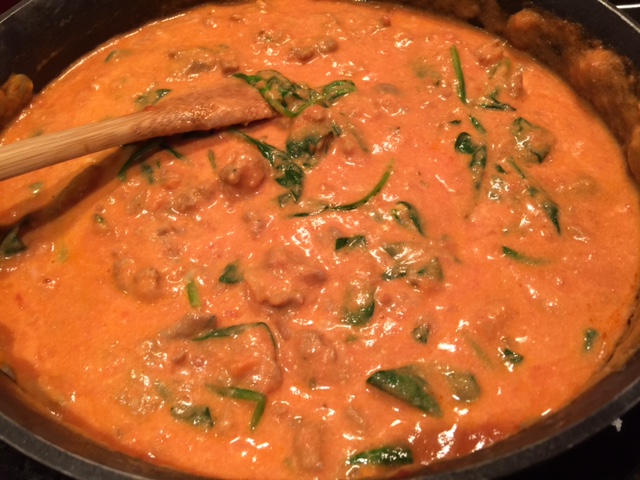 See? Mmmmm….this is yummy stuff.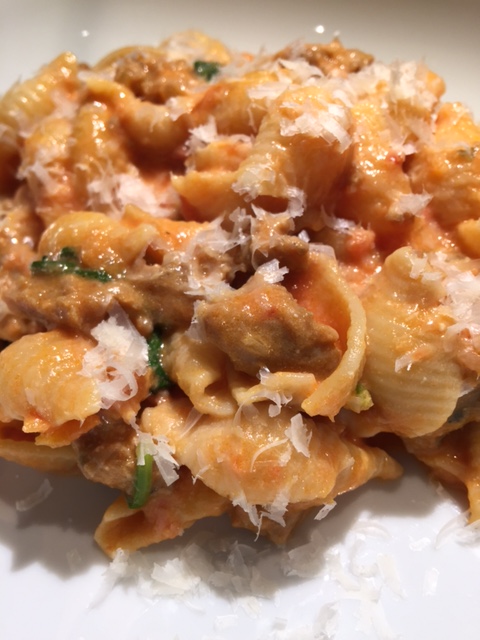 Here's what you need to do:
Turkey Sausage and Arugula Pasta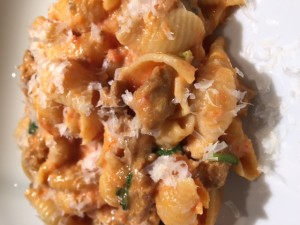 Turkey Sausage and Arugula Pasta
2016-03-11 12:03:36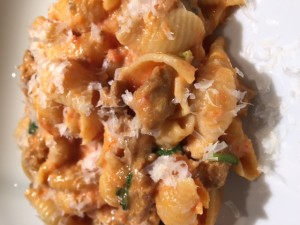 Serves 4
Nutrition Facts
Amount Per Serving
* Percent Daily Values are based on a 2,000 calorie diet. Your Daily Values may be higher or lower depending on your calorie needs.
Ingredients
1 tablespoon olive oil
1 medium white or yellow onion, diced
2 cloves garlic, minced
1/2 tsp each salt and pepper
1 package of sweet turkey sausage (about 4 or 5 sausages), casing removed
1 jar tomato basil sauce (2 cups)
3 cups arugula or spinach
1/2 cup mascarpone cheese
1/2 cup grated parmesan cheese
1 pound pasta, your choice of noodle
Instructions
In a large skillet, sauté the onions in olive oil over medium high heat until translucent. Add minced garlic and salt and pepper and cook for 1 minute, stirring often. Add the turkey sausage and cook until the meat has cooked through. Add in the tomato sauce and arugula. Let the arugula cook into the sauce until it reduces in size. Add in the mascarpone cheese and stir till combined. Remove the skillet from the heat, and stir in the parmesan cheese. Add pasta into the sauce, and finish with more parmesan cheese.
Enjoy!
Adapted from Food Network
http://www.bossoftheapplesauce.com/
Since I've returned to work, planning quick and tasty weeknight meals has become a top priority for me. I have to think of my 4 year old, Leila, when I consider our meals, not because I don't think she'll try what I put in front of her, but because I want her to be excited for dinner and not always dreading trying something new.  She loves chicken.  She loves corn flakes.  She loves parmesan cheese.  Winner, winner, chicken dinner!!!
They look good, right? But, they aren't cooked yet!
Let's talk dipping sauce for a second.  Because, you can't have chicken fingers without a sauce!!  I like sauce with virtually everything. One of my favourite go-to dipping sauces is Honey Mustard.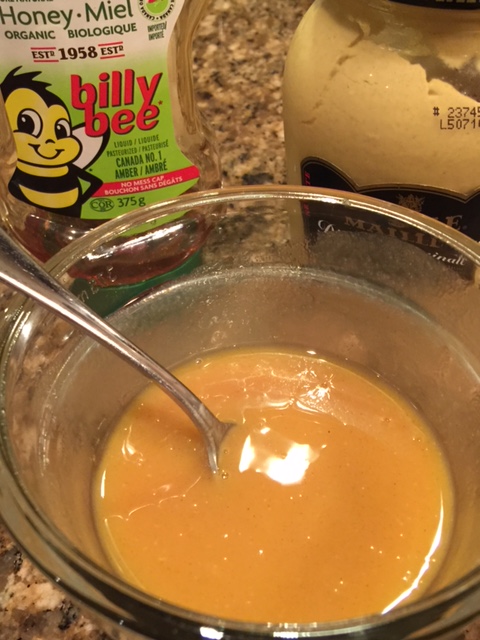 This is SUCH an easy sauce to make.  Just equal parts honey and dijon.  Stir, stir, stir.  Set aside.  You're welcome!
Back to the meat…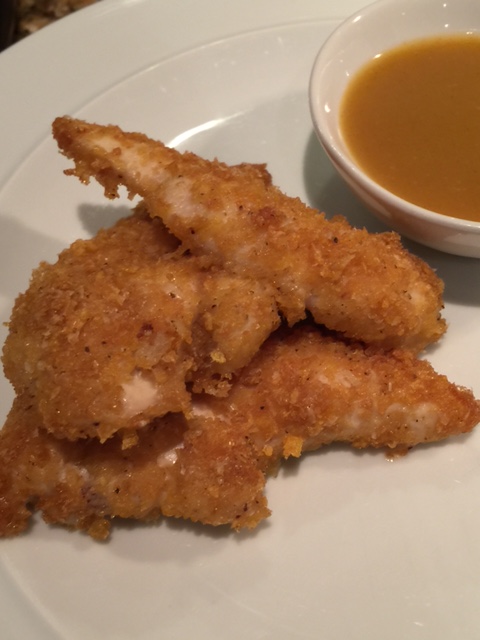 Here's what you need to do:
Cornflake Chicken Fingers
1 1/2 pounds chicken tenders (0r boneless, skinless chicken cut into strips)
1 1/2 cups fresh corn flake crumbs
1/2 cup parmesan cheese
1/4 teaspoon pepper
1 teaspoon garlic powder
1 1/4 sticks butter, melted
Preheat oven to 400 F.  In a shallow bowl, mix together the corn flake crumbs, parmesan cheese, pepper and garlic powder. Set aside.  Place melted butter in another shallow bowl.  Line a baking sheet with aluminum foil.  Take one tender at a time, and dip into butter with one hand, and into corn flake mixture with the other hand.   Set onto baking sheet.  Repeat until all tenders are coated.  Bake for 25 minutes.  Serve with your favorite dipping sauce.  Enjoy!
(Source: Adapted by: Crispy Cornflake Chicken Strips)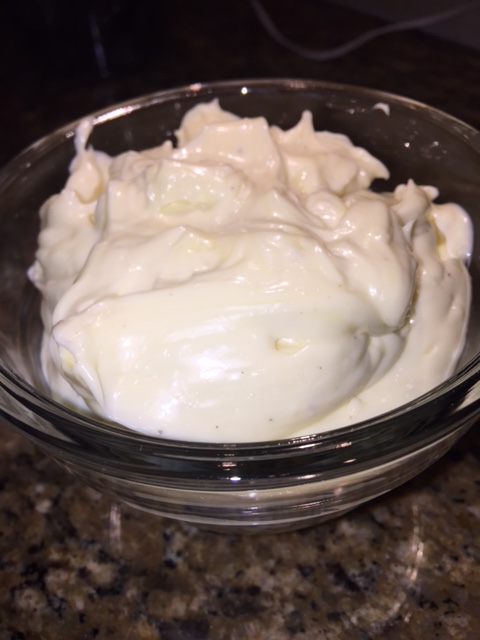 I've made this recipe several times, since starting the Whole 30 program and I think I will make it forever!  Who needs mayonnaise with added sugar if you don't need it?!  Having a food processor to facilitate this recipe is a necessity, in my opinion.  You could do it by hand and get a serious arm work out.  If you do, let me know!
There is raw egg yolk in this recipe, so the longest it will keep is about a week.  If you feel uncomfortable using raw eggs, use pasteurized eggs.  We buy our eggs from a local farmer, so they are pretty fresh and have worked well for us!  I always double this recipe, but you can make a single batch, if that's all you need.
Here's what you need to do…
2 egg yolks
4 teaspoons white wine vinegar
4 teaspoons lemon juice
1/2 teaspoon salt
1 1/2 cups light olive oil
In the bowl of a food processor, combine the yolks, vinegar, lemon juice and salt and blend till combined.  While the food processor is running, slowly add the oil, allowing the mixture to emulsify.  Transfer to a container with an airtight lid and store in your refrigerator for about 7 days.
Enjoy!
(Source: adapted from: http://goodcheapeats.com/2013/04/homemade-mayonnaise/)
This isn't the normal mix of ingredients that I use for my typical homemade pesto.  I'll have to post that another time.  I was wanting to make sure that I was staying in line while on this Whole 30 program, so I used a variation of this pesto that is Whole 30 compliant.  But, Whole 30 or not, this pesto is very tasty!  I didn't miss the cheese at all!  Here's what happened…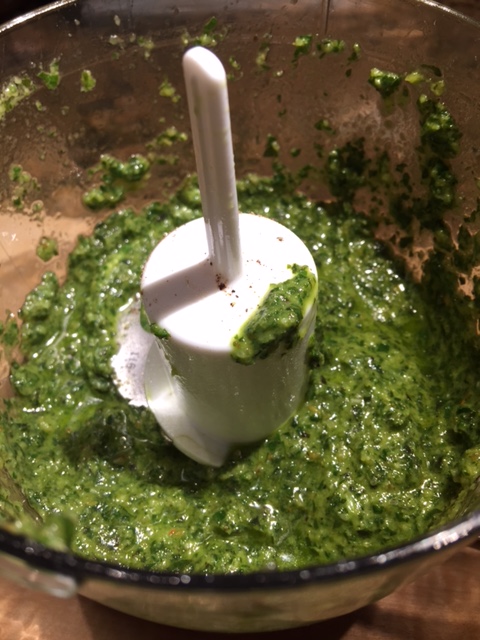 I really could've taken a better photo…  That aside, I'm gonna get right to the recipe since it's really straight forward.  Something to consider when you are making pesto is that ingredients don't need to be exact, and you'll realize that the more you make it.  It's pretty forgiving.  For the oil, while there is a measurement for the purpose of the recipe, getting your pesto to the right consistency is more important than following an exact amount given.  Also, if you add too much salt to your pesto, just adjust how much you might add to the dish you are including your pesto with.  I, also, didn't measure out might lemon.  Just a squeeze will do to start.  If you feel it needs more after you taste it, go for it!  Here's what you need to do…
Homemade Pesto (Whole 30/Paleo Compliant)
2 cups packed basil, washed and dried
1 clove minced garlic
1/8-1/4 cup pine nuts, toasted
1/4 cup olive oil
1 tsp of lemon
salt and pepper to taste
In your food processor, add your toasted pine nuts, garlic and a bit of oil and pulse till combined.  Add your basil and pulse while adding oil.  You'll see the mixture magically turn into pesto.  Add your lemon, salt and pepper.  Taste and adjust your seasonings as needed.
If you don't use all of your pesto in one serving, add the remainder into an air tight container and cover the top of the pesto with some additional olive oil.
Enjoy!
I can't very well be the 'Boss Of The Apple Sauce' without having a go-to apple sauce recipe!  This recipe is from my favorite blogger, Ree Drummond, aka, The Pioneer Woman.  It's plain and simple, good.  AND, it's plain and simple!!  You really can't mess up this recipe!  I've made several different apple sauce recipes for my daughter, Leila, since she was old enough to eat it! But, this recipe is by far the winner.  The worst part of the preparations is the peeling and cutting of the apples.  No. Big. Deal.  Here's what happened…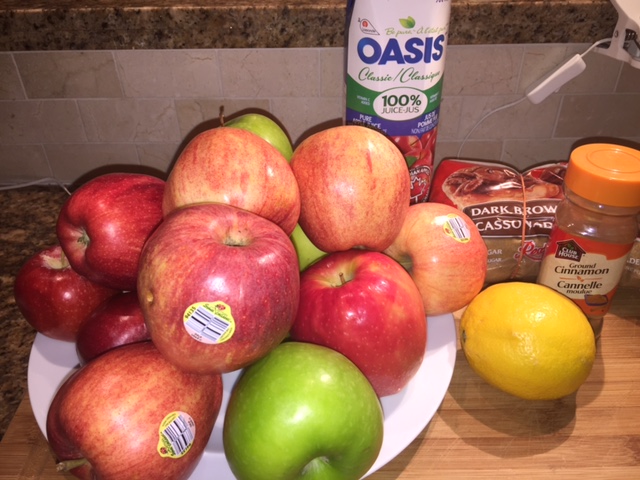 The original recipe calls for 6 pounds of apples.  What does that look like, right??  Like this! 🙂  Honestly, it depends on the size of the apples.  About 2 to 3 per pound, depending on size.  I wanted to show you the apples I used to show you that you can use any apple variety you want.  There are Granny Smith, Pink Lady, and Royal Gala in this recipe.  All will work here.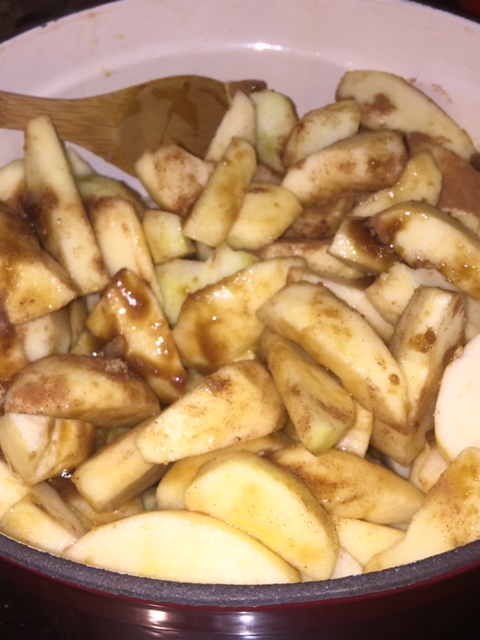 The beautiful part of this recipe is, after you get done with the nitty gritty of the peeling and cutting of apples, you just need to toss all of the ingredients together and wait…and stir, of course.  I accidentally juiced the entire lemon in this batch and it turned out just fine.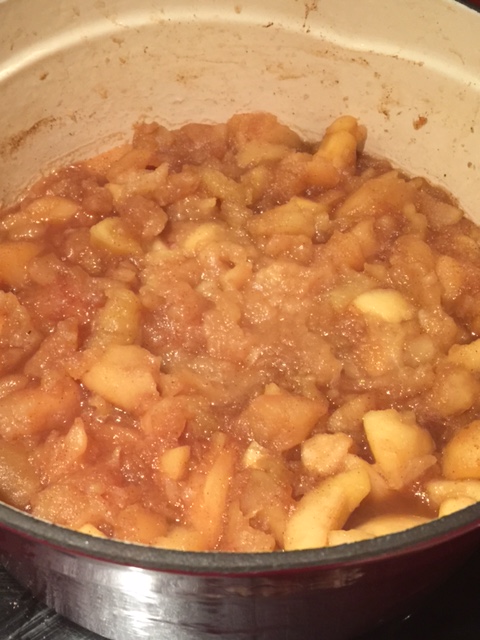 I started blending and then remembered to take a picture!  So, the mushy center you see is not from the cooking process, but my forgetfulness!
I did deviate from the original recipe and cooked these apples down far longer than the recipe suggested, especially because of the granny smith I had in this recipe.  They just take longer to break down.  But, you'll know if your apples feel too firm enough to blend.  My apples were on the stove for easily 45 minutes.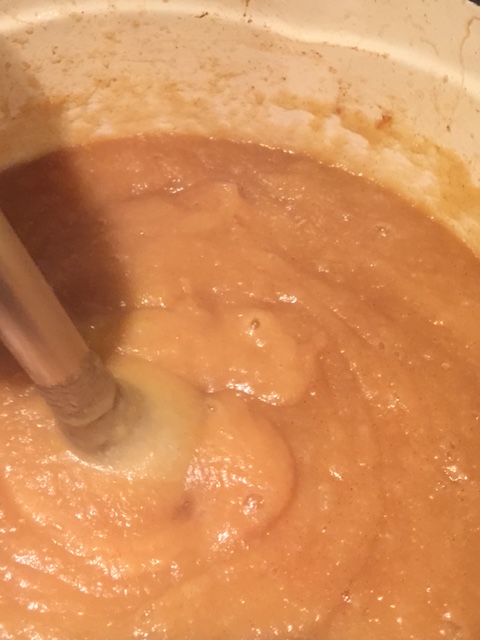 If you have an Immersion Blender, use it for this!  Using a food processor, is fine, but really messy and has to be done in stages.  You would be better to blend this in a blender than a food processor.  But, whatever you have, use it.  It needs to be pureed.
It's important to note that you have to exercise some caution when blending or pureeing anything that is hot.  It can definitely burn you, so be careful!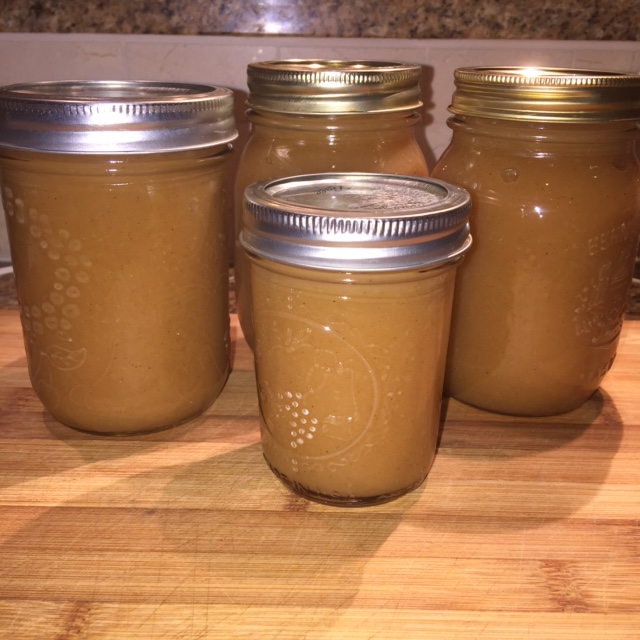 This is what 6 pounds of apples, turned into sauce, gets you!!  This freezes beautifully!!!  Make this.  I promise it's good.
Here's what you need to do:
THE Apple Sauce
6 pounds apples, peeled, cored and cut into eighths
1 cup apple juice
juice of half a lemon
1/2 cup brown sugar
1 teaspoon cinnamon
Place all of the ingredients in a heavy bottomed pot and cook over medium to medium-high heat for about 30 to 40 minutes, or until apples are no longer firm.  Stirring occasionally.  Once apples are at desired tenderness, blend the mixture until completely pureed.  Store in airtight container.  Let cool before you refrigerate or freeze.
Enjoy!
(Source: Adapted from  http://www.foodnetwork.com/recipes/ree-drummond/applesauce.html)
I follow many food blogs.  Reading all of them is what made me want to start my own!  I was astounded how many exist!  But, the best food blog I have ever come across belongs to Ree Drummond, The Pioneer Woman.  She also has a show on The Food Network.  I love her.  I haven't come across many recipes of hers that I haven't liked, and there is never really much about them that I need to change.
I watched The Food Network episode where Ree was making this soup for her BFF.  While it was easy, I'll be honest, it didn't seem all that appetizing to me, at the time.  Until one afternoon, I was wracking my brain, trying to think about what to make for dinner, without having to make a trip to the grocery store, and I thought of this soup.  I had all of the ingredients, so I decided to give it a try!  I was so glad I did!  It's surprisingly delicious.  The longer you let it sit, the better it gets, so keep that in mind!  Here's what happened…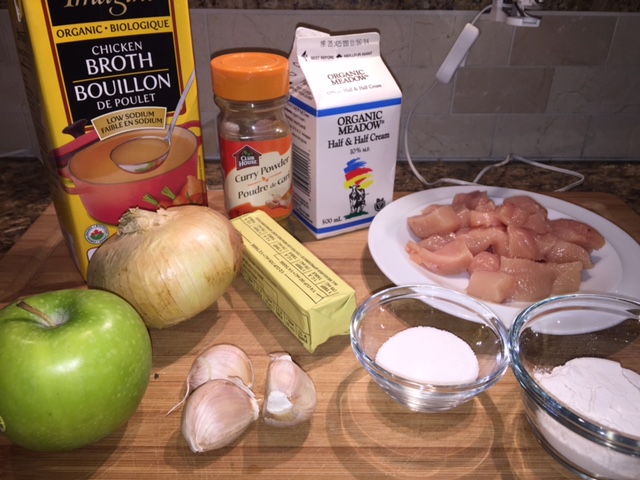 The original recipe calls for one whole boneless, skinless chicken breast.  If you've ever bought your chicken from a butcher, you will know that a whole breast actually looks like two breasts connected to each other.  So, in reality what you buy at the store is actually half a breast.  In this case, use the whole breast, or 2 halves, also known as, 2 chicken breasts.  Confused yet?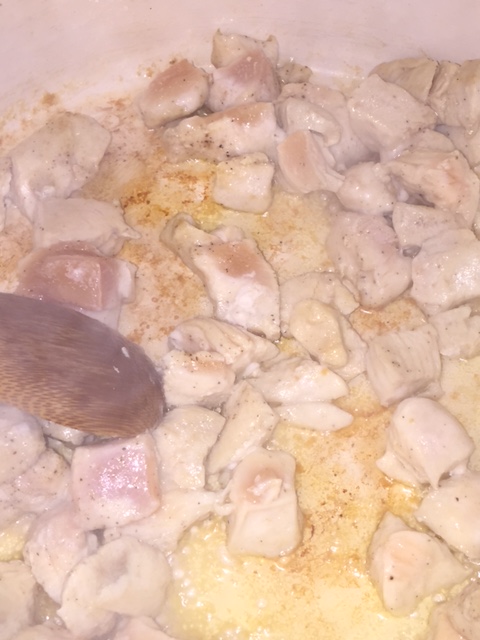 Season your chicken pieces with salt and pepper and cook them in a dutch oven over medium high heat with 2 tablespoons of butter. Don't stir the chicken too much, as you want it to caramelize and form those brown bits on the bottom that you can see in the picture. Once the chicken is cooked through, remove the pieces to a plate and set aside.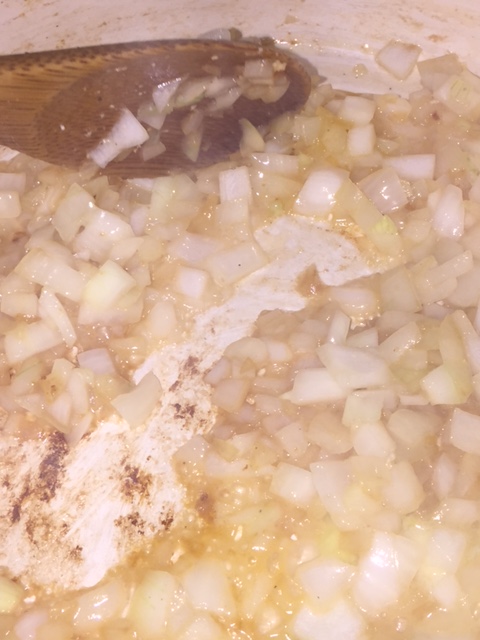 This picture looks pretty unappetizing, doesn't it?  It gets worse before it gets better, but trust me!  The end result is worth it.  Once you've removed your chicken, add 2 more tablespoons of butter and saute your onions and garlic, lifting up all those little brown bits left behind from the chicken.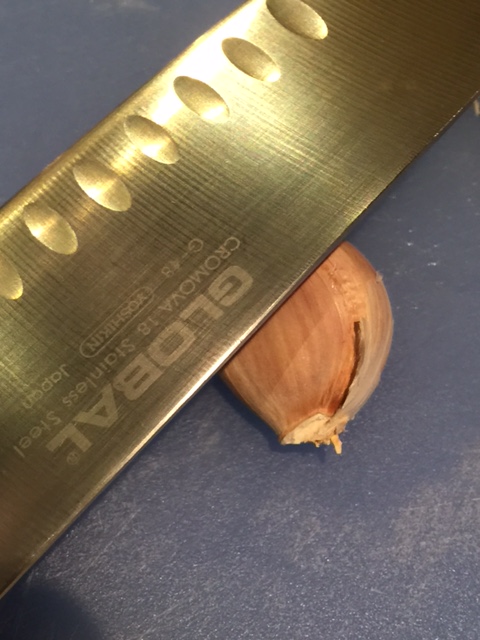 A little tip to get that pesky skin off of the garlic is to smash your garlic cloves with the flat side of a knife.  Just sit the knife over the clove, form a fist and hit the knife with the underside of your fist.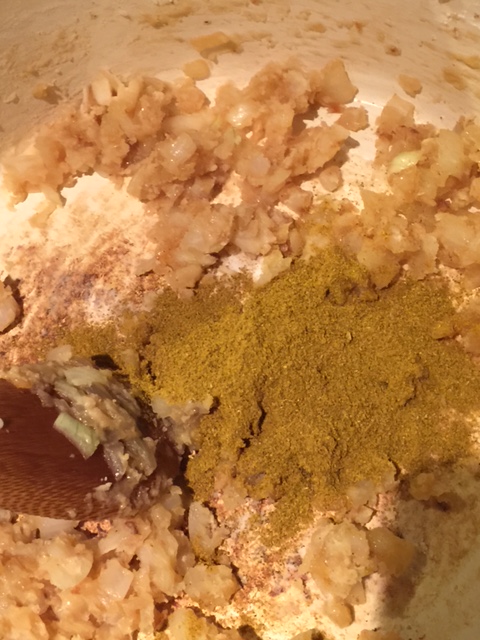 In this picture, I've already added the flour and incorporated it into the onions.  I was pretty liberal with the amount of curry I used.  It's easily a heaping tablespoon of curry that I add.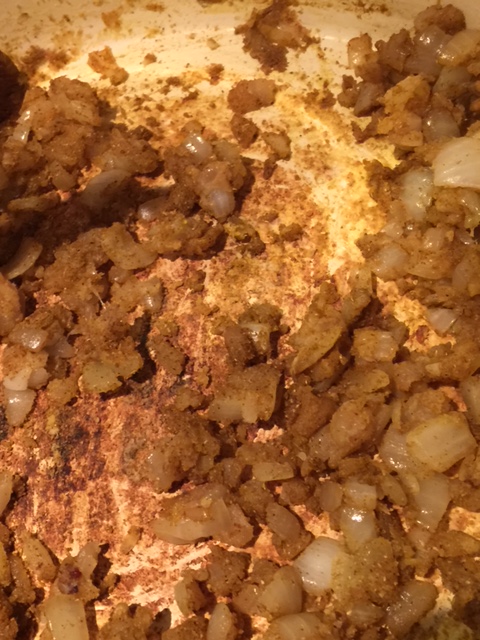 I told you the pictures would get worse before they get better!  There is nothing burnt on the bottom of my pan.  This is all flavor.  You want to incorporate all of that yummy curry into your onion mixture before adding your broth.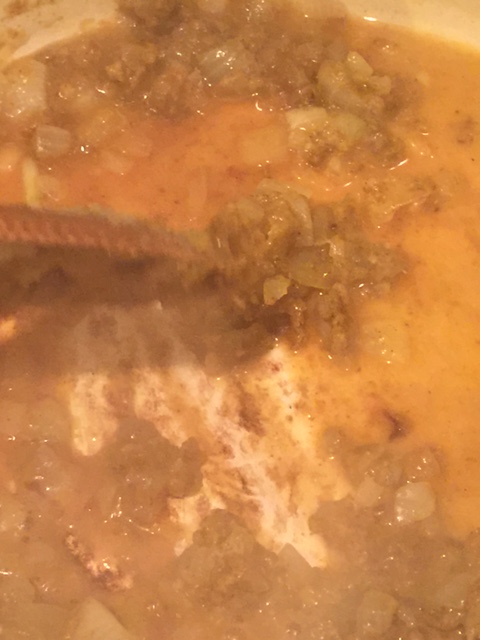 As you add your broth, begin by adding only a little, so that you can see and lift all of the goodness that is stuck to the bottom of the pan.  Once all the broth is added, let it cook for about 5 minutes before adding the half-and-half.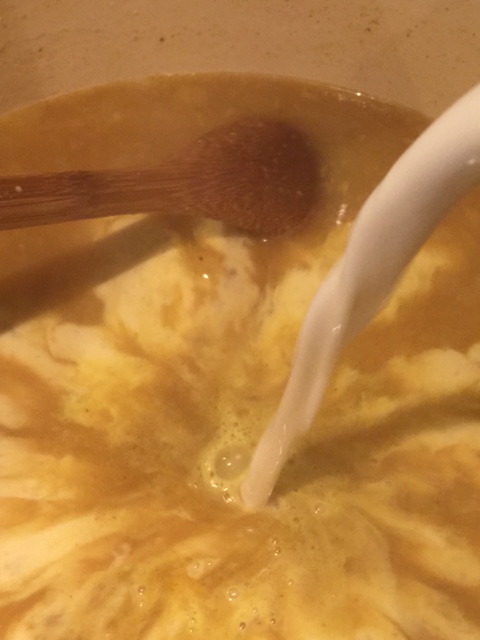 My one and only deviation from Ree's recipe, if I can even claim it as such, is that I let my half-and-half come to room temperature before I added it to the broth.  I've made this soup many times, and when I put cold cream into hot broth, guess what happens?  It separates.  Still tastes great, but doesn't look as pretty. Letting your cream come to room temperature will give your soup a nice creamy, even texture.  Add your tablespoon of sugar at this point.  Allow your cream to settle into the broth for about 5 minutes on medium heat before adding your chicken back into the pot, along with the apples.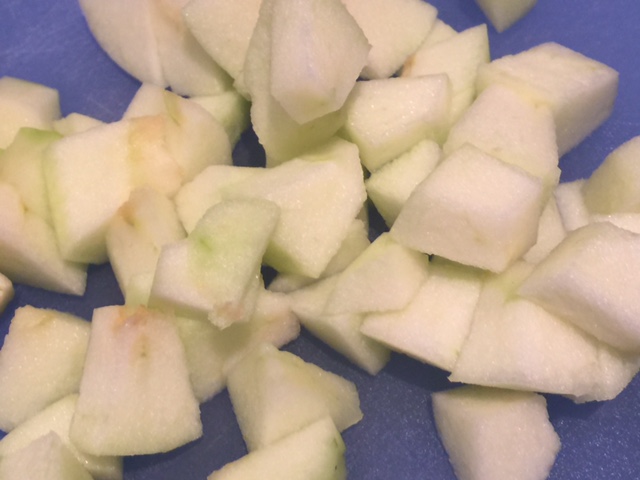 Your apple pieces should be similar in size to your chicken pieces.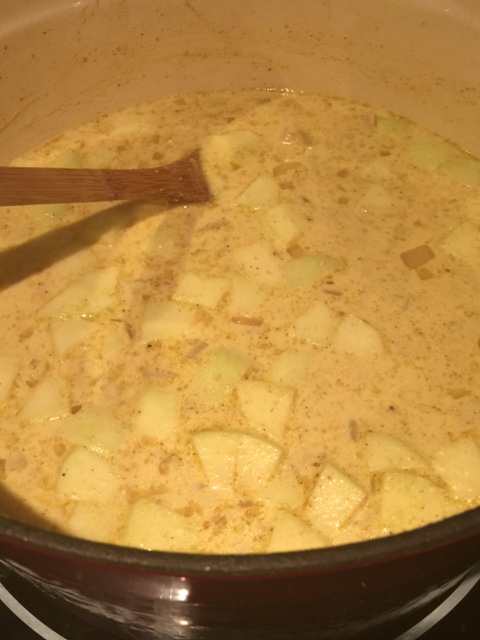 This doesn't look very good, does it?  I know!  Give the flavors some time to marry.  Adjust your seasoning.  You will find it needs quite a bit of salt at this stage.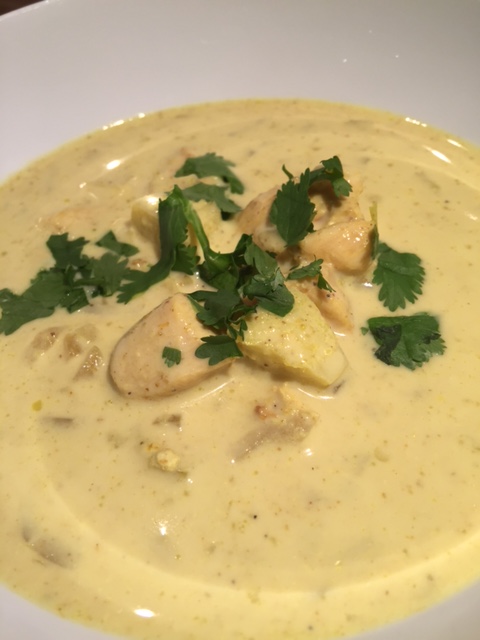 End result is this!  It's creamy, earthy, with a hint of sweet.  Yummy!  Even my 3 year old loves this soup!  Adding cilantro when ready to serve is not only a must for flavor, but as you can see, it adds a lot of visual appeal.  Serve this soup with Naan bread for dipping.  Try this soup.  I promise you will be pleasantly surprised!!
Here's what you need to do….
Ree Drummond's Mulligatawny Soup
1 whole boneless, skinless chicken breast, cut into pieces, seasoned with salt and pepper
4 tablespoons butter
1 medium onion, diced finely
3 cloves of garlic, minced
1/4 cup flour
1 tablespoon curry powder
32 oz, or 4 cups, of low-sodium chicken broth
2 cups half-and-half, brought to room temperature
1 granny smith apple, peeled and diced
1 tablespoon sugar
Salt and pepper to taste
Brown your chicken over medium high heat with 2 tablespoons of butter until chicken pieces are cooked through.  Remove chicken from the pan, reduce your heat to medium and add your onions with another 2 tablespoons of butter.  Add your minced garlic and cook until onions are transparent.  Add your flour and incorporate into the onions.  Add your curry powder and do the same.  Pour your chicken broth over the onion mixture and let cook over medium heat for about 5 minutes.  Next, add your cream and sugar and continue cooking another 5 minutes.  Return the chicken to the pot along with the apple pieces and adjust your seasoning, adding salt and pepper to taste.  Simmer on low for at least 10 minutes before serving.
Enjoy!!
(Source: http://thepioneerwoman.com/cooking/2010/12/easy-mulligatawny/)