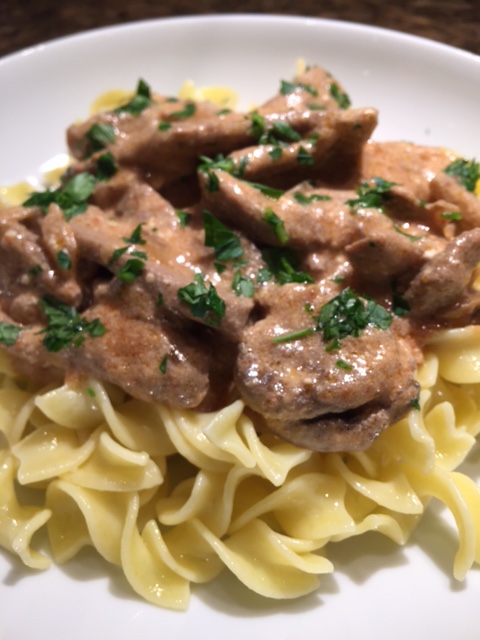 My mom used to make beef stroganoff for special occasions when I was young. It's still one of my brother's favorite dishes. I came across this recipe that is so similar to my mom's, and such a cinch to make! I've made it several times now. Mid week! Easy and so tasty! And a great way to introduce steak to your littles.
Speaking of steak, this dish doesn't require an expensive cut. Sirloin is what most people use. I used Rib Eye because that is what I had in the freezer. Any cut would work.
The first time I made this, I used a whole can of tomato paste, because I didn't want to throw away what was left in the can. I could instantly tell that the sauce was too tomato-y, so I added more broth and it turned out just fine. The second time I did this, I only used the recommended amount, and it was also very good. So, you can't really go wrong.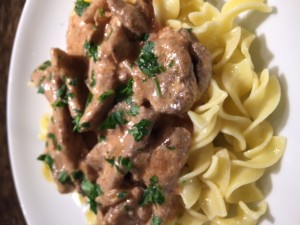 Weeknight Beef Stroganoff
2016-03-11 13:09:25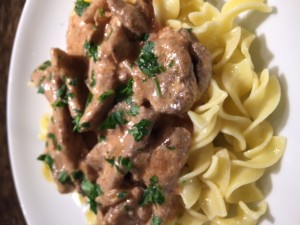 Serves 4
Nutrition Facts
Amount Per Serving
* Percent Daily Values are based on a 2,000 calorie diet. Your Daily Values may be higher or lower depending on your calorie needs.
Ingredients
2 Rib Eye Steaks, thinly sliced
2 Tablespoons olive oil
1 Medium onion, diced
Mushrooms, sliced (8 ounces)*
2 Tablespoons all-purpose flour
2 Cups beef broth
3 Tablespoons tomato paste
3 Tablespoons dry sherry
1 1/2 teaspoons salt
1/2 teaspoon pepper
1 teaspoon dried thyme
1 Cup sour cream**
2 Tablespoons chopped parsley
Instructions
Cook egg noodles in boiling salted water until al dente (soft but still a bite); toss with butter once cooked (about 2 tablespoons), and set aside.
In a large skillet, heat oil and add the beef in batches, so that the meat doesn't overcrowd and boil. The beef will cook very quickly. Cook for about 2 minutes per side, depending how thinly you sliced your steak. Remove to a plate and set aside.
Add in the onion and cook until translucent, about 5 minutes.
Add in the mushrooms and cook until soft, another 5 minutes.
Sprinkle in the flour and stir for 1 minute.
Stir in the beef broth and tomato paste and stir until the sauce thickens a little, about 2 minutes.
Return the beef, and all its juice, to the pan.
Add in the sherry, salt, pepper, and thyme.
Reduce the heat and allow the sauce to simmer for about 5 minutes.
Remove the pan from the heat and add in the sour cream.
Sprinkle chopped parsley into the sauce, reserving some for garnish.
Serve over buttered egg noodles.
Enjoy!
Notes
*If you buy the package of pre-sliced mushrooms, they measure 8 ounces
**You can use whatever type of sour cream you like, but full fat makes this dish much more scrumptious
http://www.bossoftheapplesauce.com/