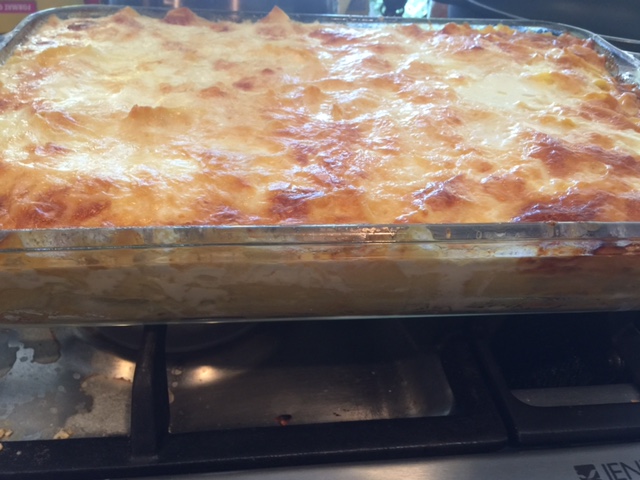 A friend of mine had asked me a while ago if I had a go-to recipe for a gooey, tasty mac n cheese. At the time, I hadn't, but I told her when I find it, I would let her know! Mac n cheese is one of my husband's favourite side dishes. I've tried out so many different recipes – with squash, with one type of cheese, with many varieties of cheese. You name it! None of them were all that great. I often found them so heavy, that you didn't need a lot in a serving, which meant tons of leftovers, which I didn't find worked well the next day.
Over the Easter weekend this past year, I was looking to add a new side dish to my mom's spread, as she always serves the same things. All great things, mind you, but I like trying new recipes, and what better time when there are lots of people around to try them out!
I came across this macaroni and cheese recipe and what I liked most about it was that the original recipe included ham! I thought this was perfect, as my mom was serving ham! So, I decided to omit the ham from the recipe and trusted that it would be the perfect accompaniment alongside the ham my mom was serving with our Easter dinner.
This dish is really easy to prepare. There's really not that much in it. But, it had much more liquid than any other mac n cheese I had ever made. I will tell you, I was concerned about this at first. But, I put my trust in the chef who created this recipe, and carried on.
The original recipe calls for this dish to bake for 20 minutes at 450. Guess what?? This wasn't long enough!!! The dish was still way too loose.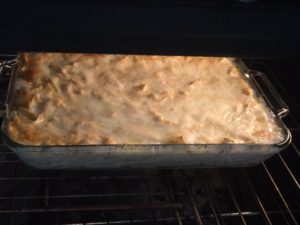 You can see from the picture above, that the top hasn't browned enough. So much for trusting the chef!! I decided that I couldn't keep the oven at 450, or the top would get too brown before the inside had a chance to solidify. I turned the oven down to 300 and let it bake for another 30 minutes. The results were perfect!
See??? Ooey gooey perfection. This behaved more like a scalloped potato (minus the potato!) recipe than it did mac n cheese. Which I thought only added to its appropriateness for Easter dinner.
You should make this. Kids love it and it has a slightly more sophisticated feel to it than some other mac n cheese recipes, which is nice for adults. Enjoy!
My Favourite Macaroni and Cheese
2017-07-18 11:07:35
Serves 6
Nutrition Facts
Amount Per Serving
* Percent Daily Values are based on a 2,000 calorie diet. Your Daily Values may be higher or lower depending on your calorie needs.
Ingredients
Butter, for greasing dish
1 package of broad egg noodles
2 cups heavy cream
2 1/2 cups whole milk
2 teaspoons all-purpose flour
1/2 teaspoon salt
1/4 teaspoon black pepper
2 cups (packed) grated Fontina
3/4 cup (packed) finely grated Parmesan
3/4 cup (packed) grated mozzarella
Instructions
Preheat oven to 450 degrees F.
Butter a 13 by 9-inch baking dish and set aside. Cook the noodles in a large pot of boiling, salted water for about 5 minutes. Stir frequently as the noodles will clump together. Don't overcook them as they will continue to cook in the oven later. Drain well, but don't rinse.
Whisk together the cream, milk, salt and pepper in a large bowl. Stir in 1 cup of Fontina, 1/2 cup of Parmesan, and 1/2 cup of mozzarella. Add the noodles and toss to coat. Transfer this to the baking dish. Top noodle mixture with the remaining cheese, spread evenly.
Bake for 20 minutes, uncovered, at 450 degrees F. After this, turn the oven down to 300 degrees F and continue baking for 30 minutes or until the top has browned. Let stand for 10 minutes before serving.
Adapted from Giada De Laurentiis
http://www.bossoftheapplesauce.com/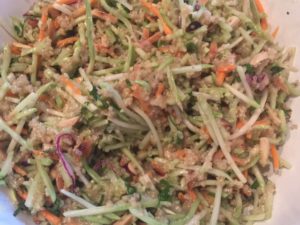 Please don't judge this recipe on my poor picture taking! I'm still learning! And, I was doing it quick, as dinner was about to be served!! I came across this recipe on Pinterest, and it is a keeper!!! It's perfect for a picnic, a pot luck or lunch the next day…. You name it! It's yum. We had it for lunch with BBQ chicken drumsticks AND for dinner with hamburgers and sausages. Happy Canada Day!!
Here's what you need to do:
Slaw:
3/4 cup uncooked quinoa
1 1/2 cups water
1/2 cup slivered almonds
2 cups shredded broccoli slaw (purchased in the prepared salads area of most grocery stores)
Honey Mustard Dressing:
1/2 cup olive oil*
2 tablespoons lemon juice
2 tablespoons dijon mustard
1 tablespoon apple cider vinegar
1 tablespoon honey
2 medium cloves garlic, finely minced
1/2 teaspoon salt and pepper
*the second time I made this, I used Grapeseed oil and it was just as good!
Rinse quinoa thoroughly before cooking. Add 1 1/2 cups of water to a pot with the rinsed quinoa. Bring to a low boil, medium high heat, with the lid off the pot. Turn temperature down to medium low until the water has evaporated. Shut off the heat and place the lid on the pot and let sit for at least 5 minutes. Fluff with a fork and let sit until ready to add to the salad.
Meanwhile, toast the almonds over the stove until they are lightly browned. Don't leave these unattended! They can burn easily!!
Add all of your dressing ingredients into the bowl you intend to use for your salad. Toss in your slaw, quinoa and basil and toss to coat. Add in your almonds. Don't worry if your quinoa is still warm. It won't damage the slaw.
Enjoy!!
(Source: Adapted from: cookiesandkate.com)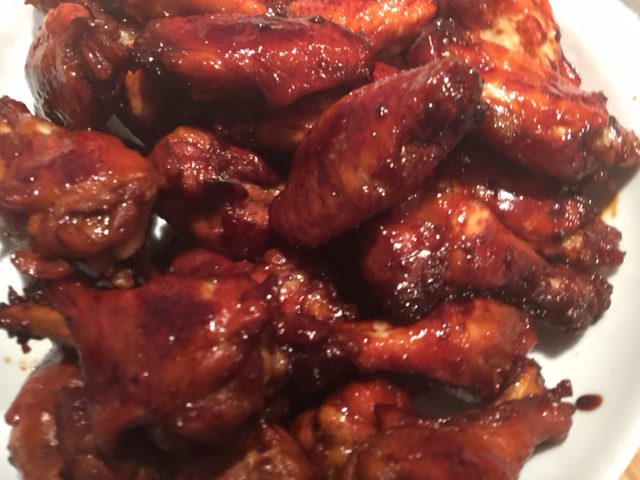 My Dad is a classical pianist. We grew up going to the symphony. When my Dad would have a recital, we often held the reception back at our house. It was always a packed house, and myself and my four siblings helped in the kitchen or as servers. Always on the menu were my Mom's honey soy chicken wings. They were popular. My favorite, for sure.
They cook over the stove top, which I've always liked. But, I am liking it less nowadays. They take a little more time than those that cook in the oven. But, they are super easy, tasty and worth the time!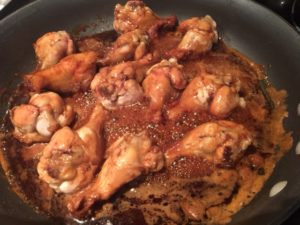 The recipe is super simple. Only 3 ingredients! Soy sauce, honey, and red wine.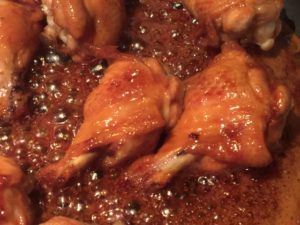 You want to add equal parts honey and soy sauce to a medium/medium hot pan and use the wine to cut the sauce when it starts to get too gummy. I use a 1/4 cup each honey and soy sauce.
This picture is a good example of needing to add some wine. The honey and soy sauce will caramelize and adding a splash of wine will loosen it. Use the wine to loosen the sauce as often as you need until the wings are cooked.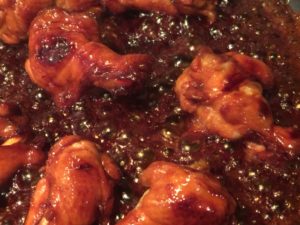 These babies are done and ready to serve! Enjoy!!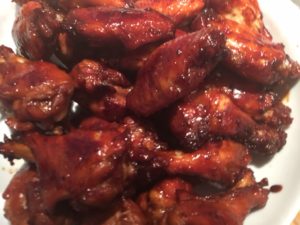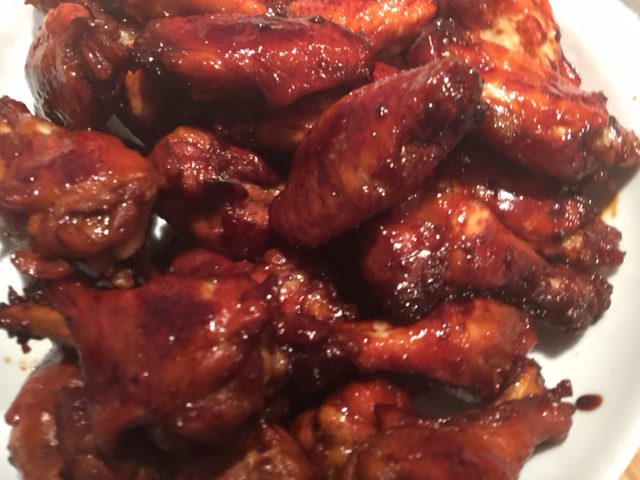 (Source: Boss of the Apple Sauce)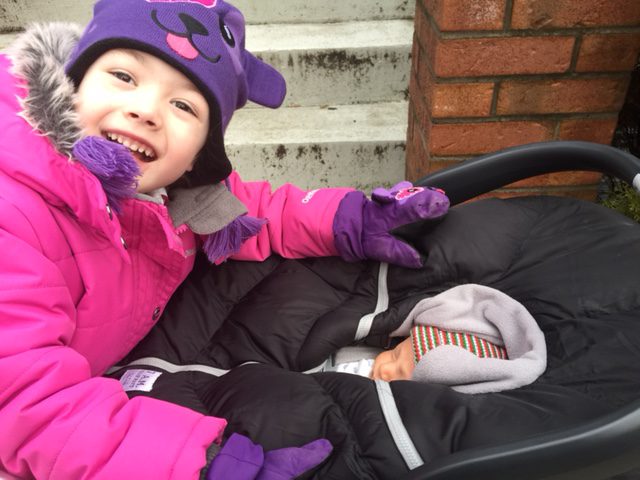 A lot has happened in my life since my last blog post. I got pregnant in April 2016, and, basically, didn't feel like cooking for 9 months!
Because we lost our second born son, David, prematurely, this pregnancy brought with it a lot of fear. For that reason, there wasn't a lot of celebrating and excitement for our baby-to-be. At least not from me. Of course, I felt so blessed to have been given another chance at growing our family, and finally giving our daughter a living sibling. But, I needed to get through months of scary waiting until we would finally be able to meet him.
I remember when 2016 began, I said that it was going to be my year. The two years prior to that were so hard for us, and we were due a year of happiness. When we found out we were expecting, everything felt like it was going according to plan! I was due to have him on January 17th, 2017. This felt like a good sign for me, as my husband's birthday is January 18th. I had my daughter on October 1st, one day before my birthday! It's only fair that his birthday be obliterated much like mine was once our daughter arrived! 🙂
One of the biggest challenges I had during this pregnancy was dealing with illness. I think I had a cold through most of it. At first, the worst head cold I have ever experienced. I remember wondering if I would ever know what it felt like to breath normally again! I, also, started teaching Kindergarten for the first time in September 2016. I have normally taught Grade 1. Not a huge stretch. But, germs seem to be exponentially worse in the kinder room! I developed a chest cold that I just could not kick! Eventually, I coughed so hard, I popped a rib. The upside to that, is that I was able to go on leave from work a couple weeks earlier than expected. Funny how things work out, because this turned out to be a blessing in disguise.
On December 16, 2016, I picked my daughter up from school, and we were ready to celebrate the start of her Christmas break! I was looking forward to spending the week with her ahead of the holidays and get in some mommy/daughter time before the baby arrived.
That night, while my daughter was in the bath, my water broke! 5 weeks early! I texted my husband, who was still at work. I called my mom. I got my daughter out of the bath, and we made the stressful trip, in rush hour Toronto traffic, to the hospital, where my husband met us.
At 11:12PM my rainbow baby boy was born.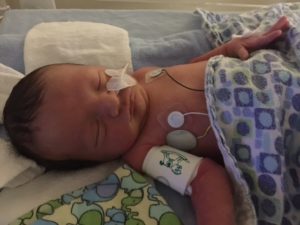 I didn't get to hold him when he was first born because my perfect baby had to be whisked down to the NICU and then to SickKids Hospital the next morning for a surgery. The picture above was the first time I really got to spend time with him, after I was discharged a day early, so that I could be with him.
From SickKids, we went to St. Michael's Hospital, since our baby was getting better and our chances of getting him home were growing closer. There, I met many wonderful moms who would show up to the NICU every single day, and stay all day long, to be with their babies. Some had been there for weeks and weeks. We were among the lucky ones who only needed to stay in the hospital for 8 days.
We got our Christmas wish and were able to bring our baby home on December 24th. The perfect Christmas gift!!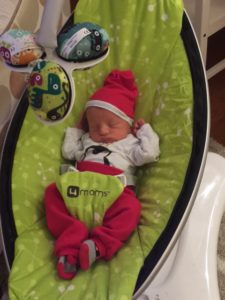 His sister agreed….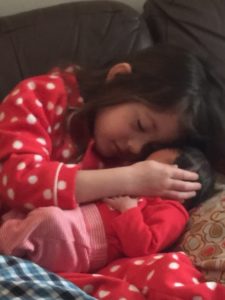 It's Mother's Day weekend!!
I didn't have enough of them before tragedy struck our lives. Now, Mother's Day is bittersweet. Bitter, because I'm reminded of my angel baby boy who I don't have physically with me, and so many other moms do. It's a reminder I try to avoid because it makes me sad, and I'm trying to be less sad these days.
Mother's Day is also very sweet for me. For one, I still have my mom on this earth to celebrate. I know many don't and I am blessed we still have time together. A friend of mine was reflecting about Mother's Day on her blog, as she lost her mom when she was only 13 years old. That struck me. I took life for granted before we lost David. But, for my sweet friend, life got all too real at a time in her life when it should've still been a fairy tale. We need to never forget how very precious life is and how quickly it can change. My mom lives in Windsor and I'm in Toronto. Unfortunately, I won't be seeing her this weekend, but we are never far apart. I will make sure she knows how much I love her. Not just on Mother's Day, but every day!
I, also, have my sweet, sweet little 4 year old girl who brings me more joy than even I sometimes realize. Yesterday, I joined her at her Montessori for their Mother's Day tea. If I could've taken pictures, I would have! Each mom was given a time slot, so that the room wasn't overwhelmed with people, as this school's philosophy is to remain calm and quiet. There were four other moms in the class with me, and I could not hear them or their child, let alone what they were talking about! Leila met me at the door, held my hand and walked me to our table, which was reserved for us. Cute touch.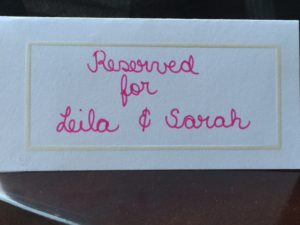 She set up the table, poured my tea, poured herself some milk, put a plate of pastries on the table, and together we sat and visited. She summed it up perfectly when she asked me, 'Best day ever?', and I answered, 'Best day ever'.
At the end of our tea, Leila got up and went to get me her present.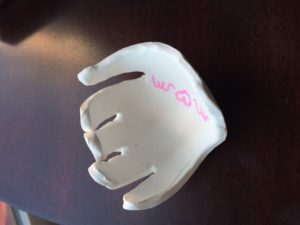 This sweet clay mold of her little hand, cupped perfectly for my rings or other jewelry.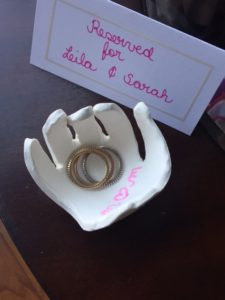 It really is the simple things that matter. It's times like these that put life into perspective. I may have lost, but I have also won. My baby girl needs to know that.
To all the angel moms, especially those that don't have any living children, and will be celebrating this Mother's Day in their hearts. I see you. Happy Mother's Day!
Guys, this dish is a new go-to!!! It's soooooo satisfying to the palate, but so easy!!! Just account for the cook time, and this is a great weeknight meal!! A perfect Sunday dinner, though.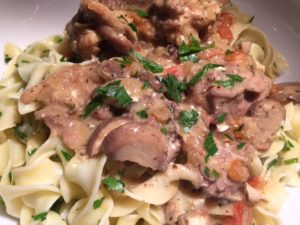 I'm still working on my photo quality. Don't judge this dish on my poor picture-taking! It almost looks like a stroganoff, which in some ways, it is. But, also, not. The original recipe calls for sour cream, but I used plain yogurt, as that's all I had. It was soooooo goood!! My 4 year old had seconds!!! The mustard flavor is really secondary. So, don't be scared off if you hate dijon.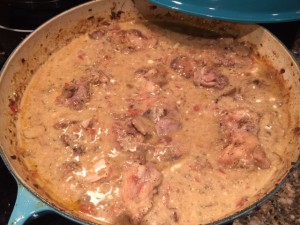 I'm in love with my newest Le Creuset pan. Look how good the chicken looks inside of it! I'm biased…
For the noodles, the original recipe calls for 'super noodles', and they sound delish! But, I didn't have chicken bouillon on hand, so I couldn't do them. I simply added butter and parsley to my egg noodles and that was plenty good! Although, I do plan to try the original method, if you don't have all of the ingredients for the noodles, don't let that stop you from cooking this chicken!
I PROMISE you will enjoy this dish.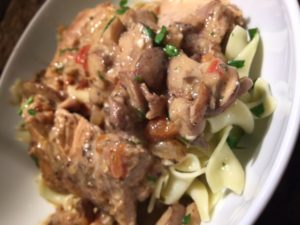 Yummy Chicken 'Stroganoff'
2016-04-11 19:20:58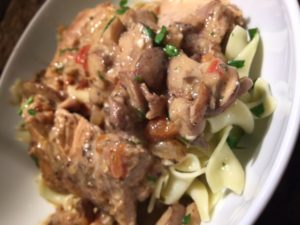 Serves 4
Nutrition Facts
Amount Per Serving
* Percent Daily Values are based on a 2,000 calorie diet. Your Daily Values may be higher or lower depending on your calorie needs.
Ingredients
6-8 chicken thighs, boneless and skinless
salt and pepper
2 tablespoons extra-virgin olive oil
1 medium onion, chopped
8 ounces sliced mushrooms
3 cloves garlic, minced
1 tomato, chopped, juice and seeds removed (I used a beefsteak tomato)
1 tablespoon flour
1 teaspoon dried tarragon
1/2 cup white wine
1 cup chicken stock
1/4 cup dijon mustard
2 tablespoons sour cream, or plain yogurt
*Buttered egg noodles with parsley
Instructions
Preheat oven to 350 F. Season both sides of the chicken thighs with salt and pepper. Heat 1 tablespoon of oil over medium-high heat and brown chicken on both sides, working in batches, if necessary, so that the chicken doesn't steam. Remove the chicken and set aside.
Add remaining oil to the same pan, and sauté the onions till translucent, about 5 minutes. Add the mushrooms and cook down for about the same amount of time. Stir in the garlic and cook for one minute, stirring often. Add in the tomato and flour, and cook for about 1 minute, to cook off the flour flavor. Add the dried tarragon. Deglaze the pan with white wine, allowing it to cook, so that the alcohol can burn off. Return the chicken to the pan, and add your chicken stock. Cover, and place in the oven for 45 minutes (30 minutes covered and 15 minutes with the lid removed).
When finished, remove the chicken from the pan and add the mustard and yogurt, and whisk until blended. Return the chicken to the pan, and spoon some of the sauce over the chicken, so that it is well coated. Serve with butter and parsley noodles.
Enjoy!
Notes
*Cook egg noodles according to package directions. Once al dente, drain water, and add 2 to 3 tablespoons of butter and allow it to melt into the noodles. Add 1/4 cup parsley. Mix together and serve.
Adapted from Melissa d'Arabian
http://www.bossoftheapplesauce.com/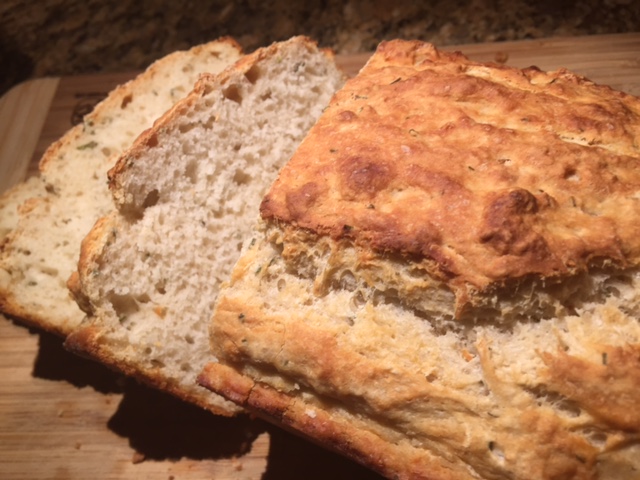 I haven't made a post in a while because I updated my website! It's kind of exciting. 🙂 Now, I need to work on my picture taking abilities. Yikes!
I made this bread the first time I introduced my daughter to salmon, so that she would have something on her plate that I knew she'd like, in case her salmon experience was a catastrophe! This bread really is true to its name. It's crazy easy!! And, it's also yummy. Two super important factors when cooking a weeknight meal!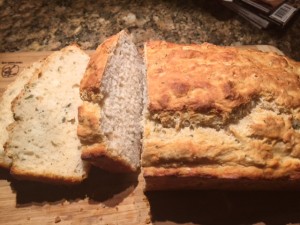 The secret ingredient in this bread is beer! Any ol' bottle of beer will do, except maybe Guinness. But, hey, if you're so inclined, give it a go! 🙂 Beer has yeast in it. A perfect pairing for bread making. Another really important ingredient in this bread is self-rising flour. Don't substitute for another flour, as self-rising flour has salt and baking powder already in it, which is why we don't need to add any of that stuff into this recipe! This bread is a bit dense. It's definitely not for sandwich making. But, along side a meal, it's perfect!!
Enjoy!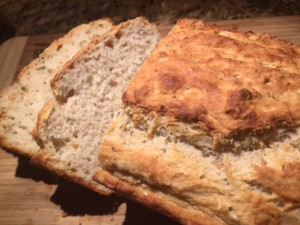 Crazy Easy Quick Bread
2016-04-02 17:10:10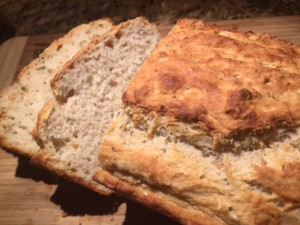 Serves 8
Nutrition Facts
Amount Per Serving
* Percent Daily Values are based on a 2,000 calorie diet. Your Daily Values may be higher or lower depending on your calorie needs.
Ingredients
2 1/2 cups self-rising flour
3 tablespoons sugar
1 can or bottle of beer
1 heaping tablespoon of chopped fresh rosemary
3/4 cup grated parmesan cheese
butter for greasing the pan
Instructions
Preheat oven to 375 F. Generously grease your bread pan with butter. Place all of your ingredients (minus the butter) into one bowl and stir until combined. Transfer to your greased loaf pan. Bake for 45 minutes, or until a toothpick inserted into the center of the loaf comes out clean. Remove loaf from the pan and let cool slightly before slicing.
Notes
Special Equipment: 8 1/2-by-4 1/2-by-2 1/2-inch bread pan
Adapted from Valerie Bertinelli
http://www.bossoftheapplesauce.com/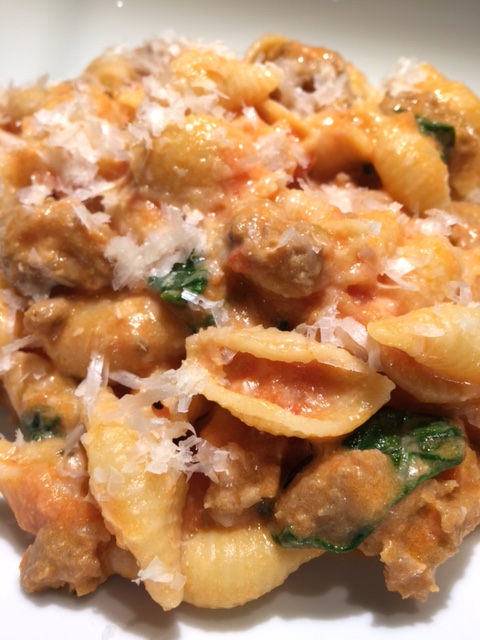 I have been making this dish since I saw Giada making it on her Food Network show a few years ago. She tops this yummy sauce over baked potatoes, but I far prefer it served with pasta. This dish looks really similar to another dish I made, Cheesy Sausage Pasta, but it is very different. I just like to use shells as my pasta of choice. 🙂
There are many things that I like about this dish. It's a great weeknight meal, because it comes together quickly. The sausage adds so much flavor on it's own. It's almost fool proof! You can easily switch out the arugula for spinach, should your local grocery store not carry it. Like I did this time around. I do prefer arugula, though, as it doesn't go mushy as quickly as spinach. But, my daughter loves both, and that's enough for me!
In a pinch, you can use pork sausage for this recipe, as it is more readily available, but be sure to drain off the fat. Sweet sausage is also much more kid friendly than the spicy variety. My daughter picked up on the spice in this dish right away when I couldn't find sweet sausage, and she wasn't as big a fan. So, I stick to the sweet stuff now.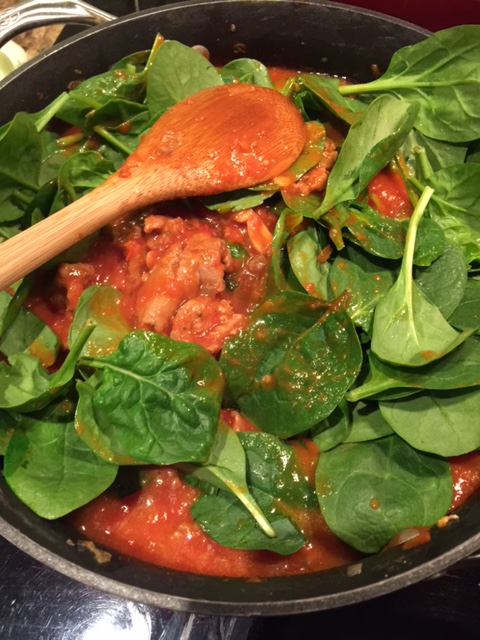 The arugula or spinach will look like too much when you first add it to your dish. But, it will wilt down really quickly.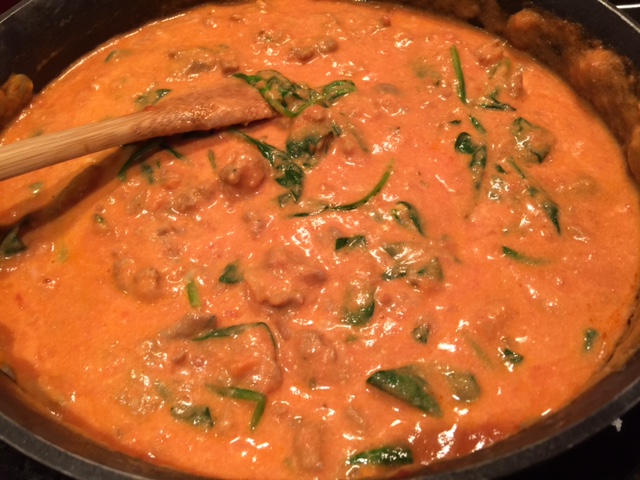 See? Mmmmm….this is yummy stuff.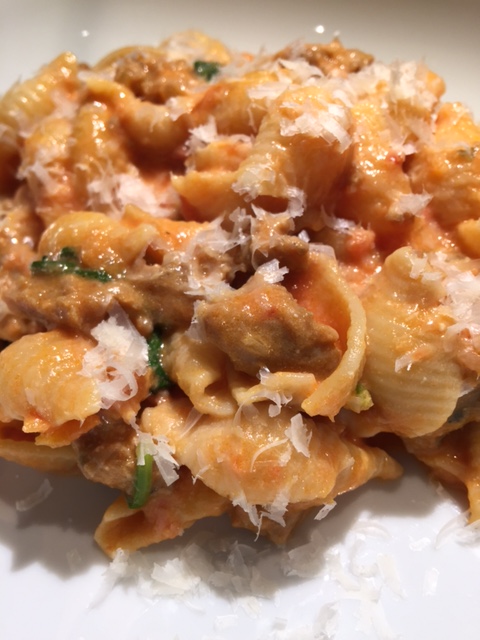 Here's what you need to do:
Turkey Sausage and Arugula Pasta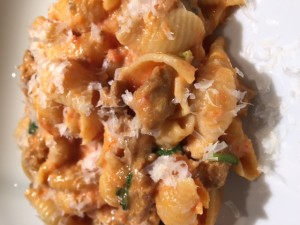 Turkey Sausage and Arugula Pasta
2016-03-11 12:03:36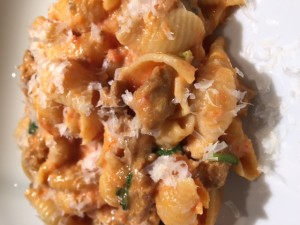 Serves 4
Nutrition Facts
Amount Per Serving
* Percent Daily Values are based on a 2,000 calorie diet. Your Daily Values may be higher or lower depending on your calorie needs.
Ingredients
1 tablespoon olive oil
1 medium white or yellow onion, diced
2 cloves garlic, minced
1/2 tsp each salt and pepper
1 package of sweet turkey sausage (about 4 or 5 sausages), casing removed
1 jar tomato basil sauce (2 cups)
3 cups arugula or spinach
1/2 cup mascarpone cheese
1/2 cup grated parmesan cheese
1 pound pasta, your choice of noodle
Instructions
In a large skillet, sauté the onions in olive oil over medium high heat until translucent. Add minced garlic and salt and pepper and cook for 1 minute, stirring often. Add the turkey sausage and cook until the meat has cooked through. Add in the tomato sauce and arugula. Let the arugula cook into the sauce until it reduces in size. Add in the mascarpone cheese and stir till combined. Remove the skillet from the heat, and stir in the parmesan cheese. Add pasta into the sauce, and finish with more parmesan cheese.
Enjoy!
Adapted from Food Network
http://www.bossoftheapplesauce.com/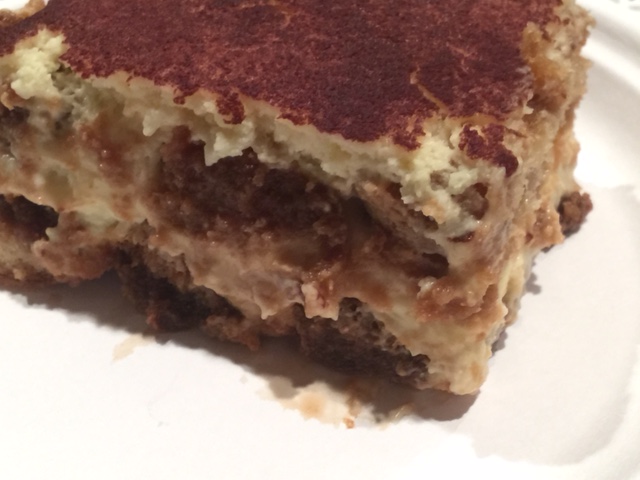 Years and years ago, I made tiramisu for a boyfriend, with the help of a good Italian friend from high school. It turned out great, but I haven't made it since. About a month ago, my husband, and some family and I went to a wine club that we are new members of for a private dinner, and tiramisu was for dessert that night. The tiramisu was good, but the cookie still had some bite to it, and I felt like I could make it better.
Fast forward two weeks later, over my lunch break, I found myself at McCall's Cake Decorating store in Toronto for some Christmas baking ingredients. Surprisingly, they were selling ladyfingers, and since I wanted to make tiramisu, I bought them. I asked the girl behind the counter if she thought I could make two pans of tiramisu with the amount of lady fingers I had. She told me she would ask the woman that was in the basement, as she makes them all the time. From the basement, a lovely, little Italian Grandma comes up, and proceeds, in broken English, to tell me the recipe she has used for 30 years! 1 eggs, 1 spoonful of sugar, and 100 grams of mascarpone, is what she said. She told me that for an 8×10 pan, she uses 5 eggs, 5 spoonfuls of sugar, and 500 grams of mascarpone. I thought that was all she was going to share, but then she kept going! She told me to separate the eggs, and beat the yolks with the sugar and then the mascarpone.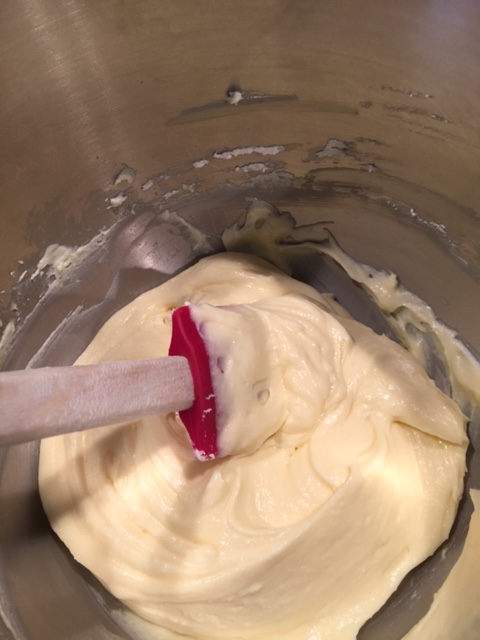 Till it looks like this.
In a separate bowl, beat your egg whites until they reach a soft peak.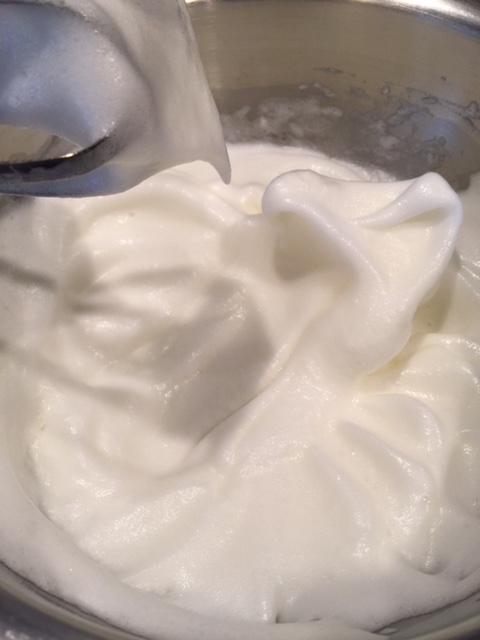 Like this.
Fold the egg whites into the mascarpone mixture.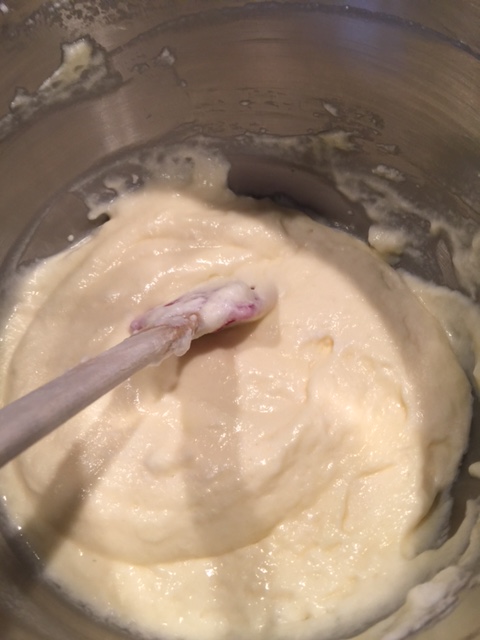 This is what you end up with. Just the right amount of sweetness.
I will tell you, that the container of mascarpone that I bought was only 475 grams, which I knew was 25 grams short from what Nona told me to use! But, I figured, I'd be fine. In truth, and this is just between you and me, I think 6 eggs, 6 spoonfuls of sugar, and 600 grams of mascarpone would have been better, as we all felt that it tasted a bit heavy on the coffee and could have used a bit more custard. BUT, it was still damn good and needs to be shared.
Nona's Tiramisu
2016-03-11 14:19:09
Serves 1
Nutrition Facts
Amount Per Serving
* Percent Daily Values are based on a 2,000 calorie diet. Your Daily Values may be higher or lower depending on your calorie needs.
Ingredients
3 cups of espresso, cooled
1 package of ladyfingers (about 50 ladyfingers)
5 eggs, separated
5 tablespoons of sugar
500 grams of mascarpone
Cocoa for dusting
Instructions
Working quickly, dip each lady finger, one at a time into the espresso, on both sides. Don't let the ladyfingers sit in the espresso, as they will absorb way too much liquid. A quick dip.
Place each ladyfinger side by side, to fill in the space of the pan.
Once your bottom layer has been filled with ladyfingers, put half of your custard on top and spread smooth.
Repeat with another layer of ladyfingers.
Finish with the remainder of your custard.
Dust generously with cocoa to finish.
Enjoy!!!
http://www.bossoftheapplesauce.com/
(Source: Boss Of The Apple Sauce)